Tag Archives: winter play
Oh It Snowed Last Night!
It is magical to wake up to a snow covered world! Here are some very simple and very fun snowy day activities with young children.

Have a child fill a glass jar up to the brim with snow with a spoon.  Ask the child to predict what will happen to the snow  when you bring the jar inside.  Check the jar periodically. It's quite surprising to children what happens with this very simple experiment and it can lead to many different discussions.  What is snow made of? What color is the water ("mirror color" was one response I heard!).  What is a puddle? If snow melts into water, what happens to the water?  Why is there still snow in some places in our backyard, and none in other places? Why is there so little water in the jar when it was filled to the top with snow? What are those "black specks" in the water? What will happen to the water in the jar over time?

William and Nicholas spray colored water

Take a walk. In Ezra Jack Keat's classic book, Snowy Day, the boy experiments making tracks, drags a stick in the snow, makes angels and best of all, he puts a snowball in his pocket when he comes back inside.  Your child may not want to put one in his/her  pocket, but I highly recommend that you put one in yours! What fun for a child to watch your pocket and see what happens with you and the snow as the snow melts.

And be sure to sing this fun song introduced to me by our M3 teacher, Kristin. Don't be afraid to make up your own tune, or recite it like a poem if you're not an adventurous singer. Simple props can be great fun with this song. Children can pretend a tissue is a cloud and tear it up. A rectangle of white paper can be a feather tossed up into the air.

Liam experiments by sledding on a tray

Oh, it snowed last night,

It snowed last night.

The sky bears had a pillow fight

They tore up every cloud in sight

And tossed white feathers in the night

Repeat.

Sincerely,

Sukie (teacher)

Special thanks to Kristin, and to Diane McCrae who taught Kristin the song!
BEATING THE SNOW DAY BOREDOM
Please welcome guest blogger Kristin Maida. Kristi teaches the Morning Mixed Age class. She is the mother of two Ruth Washburn graduates, Joey and Cole. You may look forward to cold days when you read some of her great ideas for indoor play!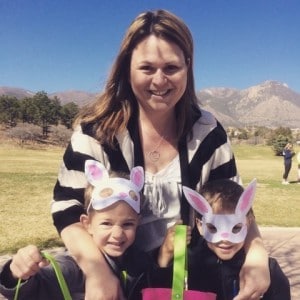 Here we are, knee-deep into fall and already have spent many days cooped-up inside our homes. If you are anything like me, you'll be thinking right about now, "How much longer until winter is over?" I'm not a skier and really despise the cold, in general. With the risk of this sounding all too negative, I'd like to offer up a piece of hope that someone told me years ago: The days are long but the years are short. With that jolly, wisdom I'm offering up some practical ways to keep everyone sane and enjoying this time we have together. Also, if I have to play one more round of Trouble, I might lose my mind. (con't)
Ideas for Indoor Fun
Set up an indoor obstacle course. It can include things like walking around the table three times or jumping on a tile square four times. Chairs and masking tape will be your friends!
Paper airplane relays. Try to use various types of folds, paper and heights to race those planes across your home. Decorating a paper airplane can be fun, too.
Binocular Scavenger Hunt. Don't spend a ton of money, but binoculars are sure fun for kids to play with! Look out the window and try to vary the items to be found. For example: Find a tiny tree with six leaves. Your neighbors might think you're nosy, but keep in mind that they would be pretty desperate if they were trying to find ways to entertain children!
Balloon Tennis or volleyball. Create a net with chairs or tape. This activity is sure to help get some of those wiggles out!
Living Room Camping. Get out those dusty sleeping bags, make a tent or pitch the good old one that was used when the weather was so kind. Camping is a lot of fun, especially in the comfort of one's living room.
Mystery Box. Cut a hole in a box and put various items in the box. You can make this a clean up game or help get children interested in finding a place for various items. The children can also find items for you to guess!
Lastly, if possible, go outside! Bundle up, build a snowman, sled and enjoy the white stuff around us!
Winter Book Ideas
Old Bear by Kevin Henkes
Red Sled by Lita Judge
Frederick (my personal favorite!) by Leo Lionni Snow Music by Lynne Rae Perks
The Busy Little Squirrel by Nancy Tafuri
Warmly,
Kristi