Tag Archives: painting
Painting Under the trees
I have always loved Georgia O'Keefe's painting,  the D H Lawrence Pine Tree. Our Ruth Washburn Summer Farm Camp for five year olds provided the perfect opportunity to share this favorite painting with children in an outdoor setting . Sitting under a grand pine tree at Redstone Castle, children commented on the painting:  "it's an octopus in space!", "a spider!"   a "tree!"  When we lay back and looked up from underneath our pine tree, Georgia O'Keefe's Lawrence Pine Tree  became clear to all. Children recognized the trunk, branches and a night sky. Letting children respond to the painting and then setting them loose to draw, paint and observe outdoors was the plan and this is what we did. Each child eagerly embraced the chance to create their own piece of art representing their unique and individual perspective.  It was glorious time spent!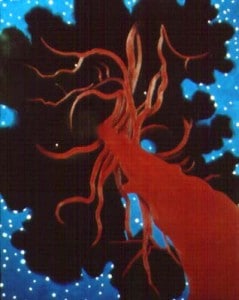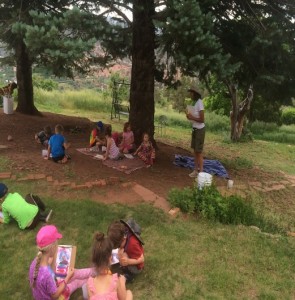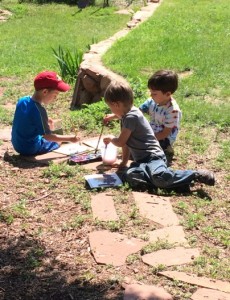 A simple outdoor easel/clipboard can be made with sturdy cardboard back, paper, hole punch, rubber band and pencil-size stick. Lay under a tree and look up. Provide him/her with paint, pencil, watercolors, pastels,  crayons—any tool for creating art. Let me know what happens!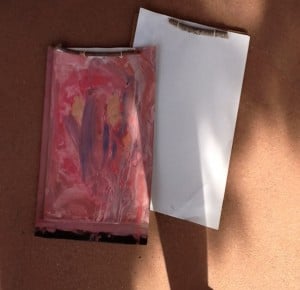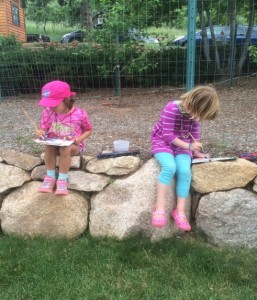 The Colorado Springs Fine Arts Center is presenting an exhibition featuring Georgia O'Keefe paintings through September 13th. Consider a family field trip.
Special thanks to Dan and Gail Stuart who offered their lovely property, Redstone Castle in Manitou Springs,  to our school for the week-long Farm Camp.
Sincerely,
Sukie Jackson  Older 4s teacher
*What outdoor art projects have you done with children?