Tag Archives: detritus
Everyday Play in the Ruth Washburn Basement
Everyday Play in the Ruth Washburn Basement.
Have you ever been down to the basement of the Ruth Washburn Cooperative Nursery School? It is a marvelous place filled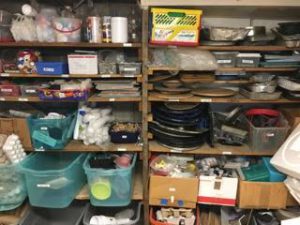 with STUFF that teachers use each week, in original combinations, to create enriching, educational classroom environments. Here's a sneak peek into some favorite items on the chance that you haven't yet experienced this wonderful space:
An entire wall filled with process art materials including a set of baby bottles filled with colored water, fly swatters, sea sponges, golf balls, strawberry baskets and all kinds of brushes including scrub and toothbrushes.
Shelves filled with recycled items. Corks, baby food jars, aluminum trays, paint samples, tiles, scoops, wire pieces, sytrofoam sheets, smooth stones, cardboard squares, egg cartons and so on.  Parents in our cooperative are the perfect source for these materials that get used by children for tinkering, building and creating.
Science bins including Weights and Measures, Pulleys, Bubble Wands, Sight and Sound, Beakers and Test Tubes. There is a bin with more than ten bird's nests. Amazing! Shells, rocks, antlers, even a coconut can be unearthed from the many natural objects stored offering children the opportunity to study real objects.
There is more. Paint, glitter, glue, costumes, hats, scarves. Oregon sand, keys, and popcorn. Multi-cultural musical instruments and a set of hand drums. A wooden train, a circus train. Foam, wood, cardboard and other blocks. Puzzles, magnetic builders, flannel boards and stories. Castles, barns, a space ship.
Ann Epstein in The Intentional Teacher recommends that teachers provide "sturdy, open-ended materials that children can use in many ways and reflect the diversity of their homes and communities." This is just what we do with basement STUFF.
"Children are particularly fond of haunting sites where things are visibly worked on.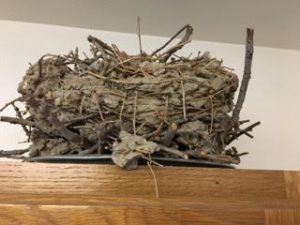 They are irresistibly drawn to the detritus generated by building, gardening, housework, tailoring or carpeting,"  William Benjamin stated way back in 1924. While our basement "detritus" isn't generated by tailoring or housework, it is generated by good teaching. RW teachers, parents and children are "irresistibly" drawn to this school, in part, due to all the great STUFF in our basement that we use to facilitate children's play and learning. If you haven't yet been down to our basement, be sure to plan a visit. You will be amazed by everything there.
Sincerely,
Sukie Jackson, Teacher