Tag Archives: apples
Everyday Play with an apple peeler
I have some investment advice for you. Invest in an apple peeler while your children are young. This is not your normal investment advice, I admit, but our family has gotten so much use out of our peeler over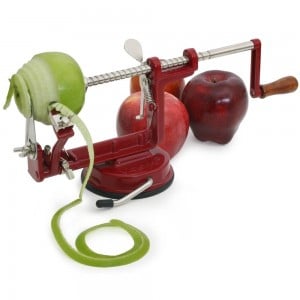 the years, that I thought I'd better pass the secret along. Why invest in an apple peeler?
An apple is a nutritious food. As a Ruth Washburn parent I was so positively influenced by the school's healthy snack policy, Snack Time At Ruth Washburn, that for all the years that my three children were in elementary school, I supplied apples and our apple peeler for holiday and birthday parties. Serving peeled, sliced apples sprinkled with cinnamon on decorative napkins was an easy, healthy alternative to cupcakes. We have taken the peeler to athletic events, dinner parties, birthdays and pot-lucks. Everybody likes having a turn (literally a turn of the crank!). And everybody enjoys the resulting apple snack.
Ruth Washburn teachers find many creative, educational  ways to use apples and apple peelers in their classrooms. These are activities parents can also do at home with children: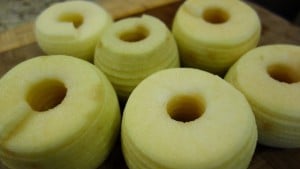 Experiment with dehydrating peeled apples to make "apple chips."
Introduce different apple varieties which have names with such personality—Granny Smith, Pink Lady, Jonathan, Gala and Honey Crisp.
Compare tastes of different varieties and and have children pick favorites.
Observe what is the same and what is different about apple varieties.
Excavate an apple half using a popsicle stick as a tool. Children can discover the stem, the core, the skin and count the number of seeds in their apple.
Cut an apple in half horizontally to discover the star.
Blend and cook apples to make applesauce.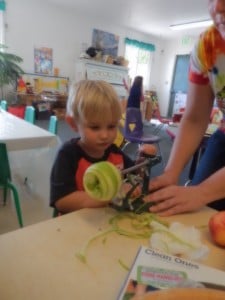 While most children enjoy operating an apple peeler, there are some children who are curious about how this tool works. Educational websites describe an apple peeler as a compound machine. "Four different simple machines make up an apple peeler. The handle is a wheel and axle. The axle is also a screw that turns the apple. A wedge peels the apple's skin. To hold the machine in place, a lever can be switched to engage a suction cup." What a fantastic teaching tool!
An apple peeler makes a unique, durable gift. Children of all ages love peeling, coring, slicing…. and best of all eating apples. So invest now, and let us know what you like best about having your own apple peeler.
Sincerely,
Sukie Jackson       Older 4s teacher