Tag Archives: afraid
Talking About Feelings with Children
Children at Ruth Washburn are encouraged and allowed to express a range of emotions including excitement, happiness, sadness, fear, anger and disappointment.  Helping children to have the ability to identify, understand and communicate their own emotions and to learn the ability to appropriately manage strong emotions is one program goal. Books are a great tool to help with this learning process. Here are three favorites:
Duck and Goose: How Are You Feeling? by Tad Hills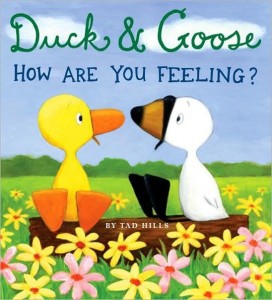 This seemingly simple book has just ten words to describe emotions. The illustrations clearly depict feelings. Guessing at the feeling leads children to share stories about when they have experienced similar emotions. What a great question to ask children periodically—how are you feeling?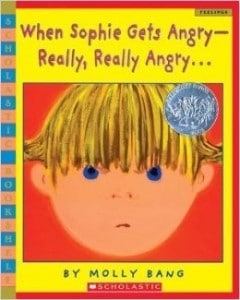 When Sophie Gets Angry, Really Really Angry….by Molly Bang
When Sophie is forced to share her stuffed gorilla, she feels very, very angry. Who of us hasn't experienced that feeling of being very, very angry. The book opens the door for a child to share a story about something that has made him or her angry, and for a discussion of how a person can make him/herself feel better. Individual children (and adults!) have different ways of responding to feelings of anger. Sophie calms herself by running and climbing a tree. Appropriate and inappropriate responses to anger can be discussed.
The Little Old Lady Who Wasn't Afraid of Anything by Linda Williams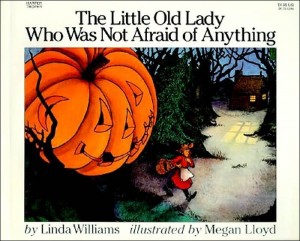 Drama teacher Wendy Harms (mother to Noah and Micah) models a unique way to present this story with children. Wendy prefaces the story by asking, "what kinds of things make you afraid?" Children have lots to say about this topic. After talking about specific fears mentioned by children, Wendy then acts out the story of how a brave and clever lady walking in the woods overcomes her own fear. She invites listeners to help out with telling of the story by clomping, stomping, shaking and nodding along with her.
This is an especially good book to read during Halloween season when children may be fearful of scary costumes and decorations. Minnow, our school's first director,  used to remind parents not to forget that "the Halloween and trick or treating fun we remember from our childhood was experienced between ages six and twelve rather than ages two to five."  She suggested letting the preschooler take the lead on celebrating or not celebrating Halloween.
Jacqueline Golding in her excellent book, Healing Stories, Picture Books for the Big and Small Changes in a Child's Life, writes that "stories can help kids expand, adjust and refine their way of thinking  by showing new ways of thinking about things. Developmental changes bring feelings that need to be processed. Children may not only feel proud, happy and competent, but also sad, angry, worried, lonely, ashamed, or confused. Stories can help them understand and resolve their feelings." Give these books a try, and let us know about other good stories that address children's emotions.
How Are You Feeling? It's an important question!
Sincerely,
Sukie Jackson, Older 4s teacher