Category Archives: Ruth Washburn Information
Dispelling the Myths and Misconceptions
When families call us, we often ask how they heard about our school. The answer is almost always "from a friend, co-worker, neighbor, etc". While word of mouth is an excellent way to hear about our school, sometimes people hear rumors and myths about our school the same way.  Just to dispel some of the common misconceptions about Ruth Washburn, we've compiled some great information.
Myth:    Ruth Washburn has a long waiting list so you better call as soon as you get pregnant or you will miss out!
Truth:    While we will sometimes have a waiting list in an individual class, we can almost always find a class that will work for you and your family. We have classes for children ages 2.5 through 6 in the mornings and afternoons. We do have a future enrollment list you can add your child to as soon as he or she is born, but feel free to call at any time to see if we have space in a class.
Myth:    Everyone who goes to Ruth Washburn is rich.
Truth:    While quality early childhood education is not an inexpensive proposition for families, more than 25% of our students receive financial aid. Call to find out if you qualify.
Myth:    The parent responsibilities are just too much for a working family.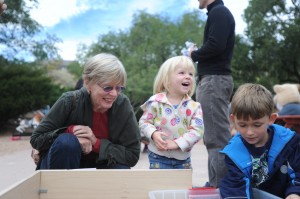 Truth:    Study after study underscores the importance of a family's involvement in their children's education.  As members of the parent cooperative, families help in the classroom about once per month, spend about 1 hour per month on committee work, spend 10 hours per school year on school maintenance (which is usually done on a weekend in the summer) and help with our annual Fork & Bottle Auction.  Families have many ways they do this including parents taking turns, grandparents helping, nannies helping and aunts/ uncles helping. It really does take a village! Families often meet the folks they will be friends with throughout their children's lives at maintenance days or committee meetings. The beauty of the cooperative is that you are with families who are at the same parenting stage as you.
Myth:    With ½ day, part week classes, only families with a stay at home parent can make it work.
Truth: We have many wrap-around care options, including early morning care which starts at 7:30am, afternoon care on Monday through Thursdays until 5:30 and Thursday and Friday morning care from 8:30-11:30am. We do not offer care on Friday afternoons so our teachers can have planning and meeting time. Many families work together to coordinate care on those afternoons so it really can work for anyone.
Do you know anyone looking for a great preschool for the fall?
Have them give us a call at 719-636-3084