Category Archives: Everyday Play
Everyday Play with a Snake
We happened upon a snake in our Outdoor Class one day. Encouraged by  five-year-old Calvin, I managed to capture a part of the experience on video. The following video can be one or all of the following:
a demonstration of children's natural curiosity
a sample of age-appropriate use of technology in the classroom
an example for the spontaneous learning that happens outdoors with children
Not only do I love the video, but I love all of the children's comments overheard while they observed the snake.
"Does it leave a trail?"
"There's the head."
"I see its tongue."
"It's camouflaged."
"Where is it?"
"Take a video."
"Can you zoom in?"
"Make sure to see it moving."
After the snake had slithered away, Calvin asked if I would be sure to send "it" to his mom. I assumed that he meant the video but I couldn't resist asking him if he meant for me to send the snake. We both got a good laugh out of that joke and then we carried on with our day.
Sincerely,
Sukie Jackson
There is so much potential for playful interactions with your child based on William Steig's book Pete's A Pizza.
A short review from Publisher's Weekly summarizes the book."Mr. Steig introduces a game guaranteed to produce a good mood. On a rainy day, title character Pete flops down on the couch in an attitude of despair. His father notices, and "he thinks it might cheer Pete up to be made into a pizza." Pete allows himself to be carried into the kitchen, where he is kneaded and tossed like dough. "Next, some oil is generously applied. (It's really water.)… And then some tomatoes. (They're really checkers.)" Pizza-Pete bakes on the couch, (a.k.a. the pizza oven), but when it's time to cut slices (with a karate-chop gesture), ""the pizza runs away and the pizza-maker chases him."
Here are some variations on"reading" the book with your child.
1) Simply read this book aloud.The book begins with Pete in a bad mood. What is a bad mood? Have you ever been in a bad mood? This is a great topic to share with your child!
2) Gently "knead"and  "stretch" the child's arms and legs as you read with your child on your lap or beside you. Pretend to whirl and twirl and sprinkle on ingredients. And give a gentle tickle when "Pete the Pizza" laughs.
3) Put a blanket on the floor and when Pete gets made into a pizza, do the same actions with your child including "whirling" and "twirling" your child in the air. When it's time to cook the pizza put him/her onto the sofa. Encourage the child to run away before being sliced! And don't forget the best part, give the child a hug at the end.
4) Use a recycled pizza box to make props for pizza making. Torn paper strips make great "cheese" and "pepperoni". Do you have anything that could be used for powder? Water in a spray bottle could be oil. Or water in a small bowl could be sprinkled. Your child can help you create this Pete's A Pizza activity box. You and your child can take turns being the pizza maker and the pizza.
5) Make real pizza with your child. There are so many variations from easy (melted cheese on an English muffin)  to more involved (making homemade dough offers children the wonderful opportunity to knead and stretch real dough).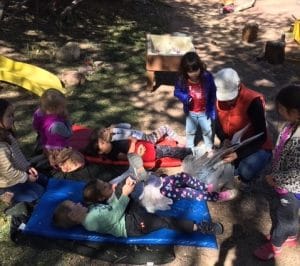 I enjoy reading this book with children outdoors. When the pizza runs away, off the children go! We have the fun of corralling them back to our reading blanket and the joy of giving the "pizza's" a hug at the end. Give this book a try!
Sincerely,
Sukie Jackson  Teacher
Several children try sledding for the first time!
Many children sled which involves serious negotiating at the top of the hill about who gets which sled, decision-making about whether or not to ride in the front or the back, taking turns and the thrill of pushing off the hill to slide down.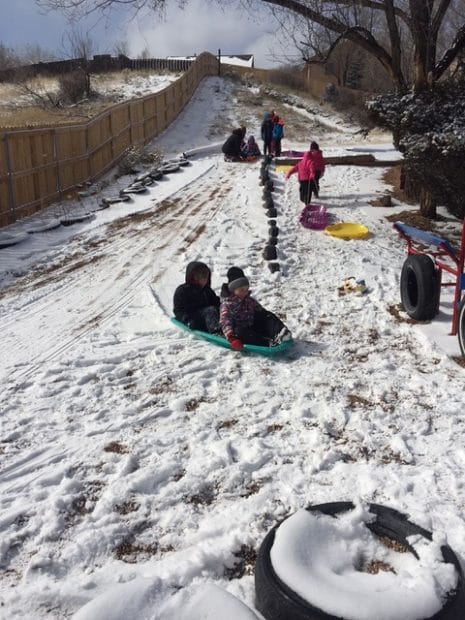 So much experimenting happens as children's sleds veer to the side, turn over or slide faster or slower. Some children discover that they can spin in the "flying saucer" sled.
And who needs sleds? Given cardboard pieces of various sizes, plastic sheets and metal trays children have great fun sliding on the Prairie paths using these recycled materials.
Children exercise their bodies carrying sleds up the hill to come down again and again.
We read the book Snowy Day by Ezra Jack Keats. Inspired by this book, children make tracks, knock snow off the trees with a stick, make snow angels, and discover the fun of climbing up the Prairie path and tumbling/sliding down in the snow and ice.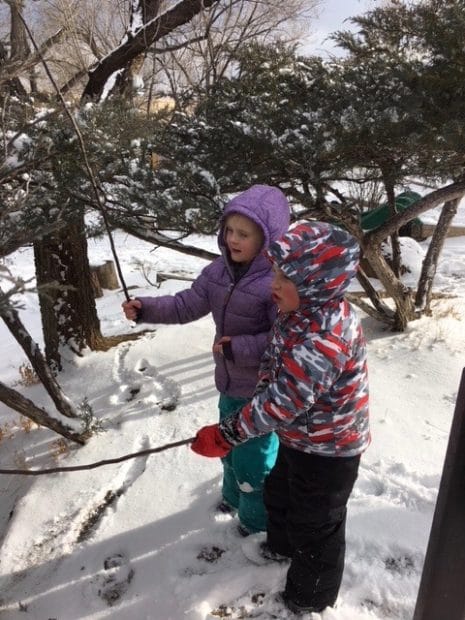 One child discovers that she can draw circles in the snow with a stick. Another child squeezes snow with her mitten to make ice. Several children squeeze snow in their hand to make snowballs. The outdoor easel makes a good target and they practice their throws.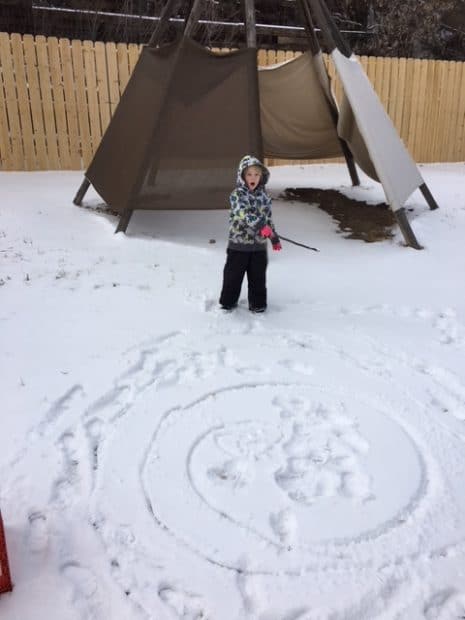 One child lifts large chunks of snow from piles that have been shoveled. He enjoys watching these chunks break up when they crash to the ground.
Children come down the slides and wonder why the slides are faster on such a cold day.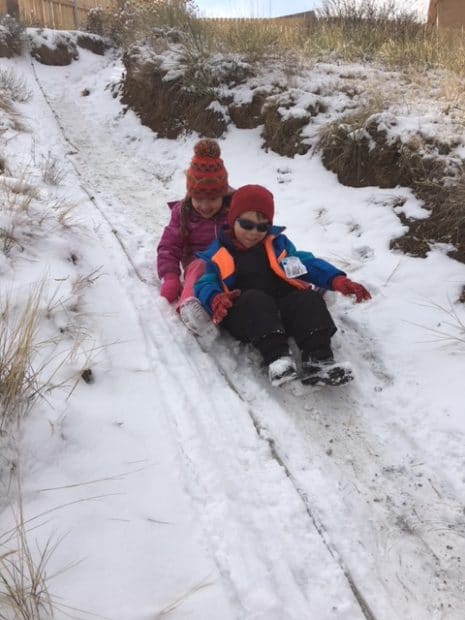 Reflecting on our busy day of experiencing the snow with all of our senses (several children couldn't resist tasting the fresh snow!) the only thing the children didn't notice was the cold temperature.
Special thanks to our student teacher Colby Adams and teacher Britnni Caldwell for helping facilitate such fun outdoors.
Sincerely,
Sukie Jackson, Teacher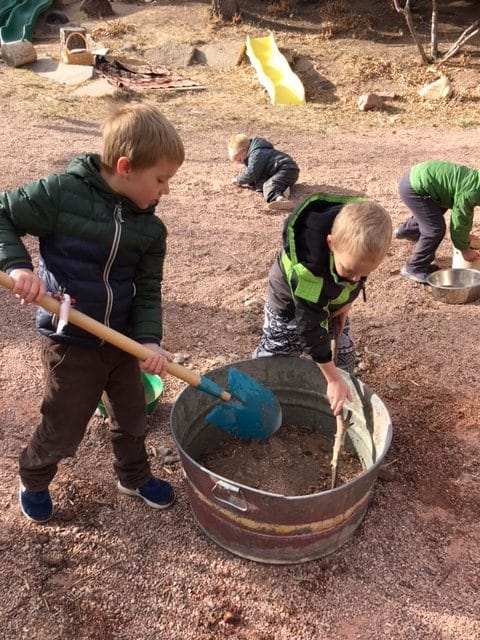 There are many great ways to share the folktale Stone Soup with preschool age children. Reading the Caldecott award-winning book Stone Soup by Marcia Brown is one. This story begins with three soldiers "trudging down a road in a strange country. They were on the way home from wars. Besides being tired, they were hungry."
A second book version is Jon J. Muth's Stone Soup. As Muth explains in his author's note "In this retelling, I took the traditional form of the Stone Soup and set it in China. I also used the Buddha story tradition, where tricksters spread enlightenment rather than seeking gain for themselves."  I love the question posed in this version— "what makes one happy?"
I highly recommend cooking Stone Soup with children. A home version could involve a child helping to cube just one or two favorite vegetables and searching for and washing the stone. Or a family could take a trip to the grocery store together where each family member picks one or two vegetables for more variety.
Here's how we made stone soup at school:
We asked each child to bring a vegetable.  Teachers provided child-safe knives, cutting boards and plenty of supervision. This year the combination of vegetables brought in by the children was a wonderful mix. Temo brought kale. Arlo provided a parsnip, Italian parsley, two carrots and a sprig of sage from his family's garden. Kinsley and Avery brought celery. We had two zucchinis, one from Lucy and one from Cohen. Audrey provided a yellow onion. Our soup had scallions and carrots brought by Aidan. Lena surprised us all with her kohlrabi. Eli shared cauliflower and snap peas. Jude cubed potato slices to add to the mix. Calvin contributed asparagus. He and Lucy found the stone we added to the pot. We even had a bright red beet from George's garden where we had visited on a field trip.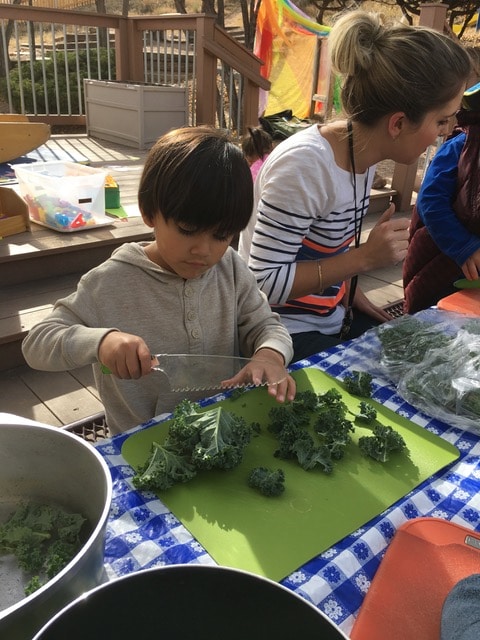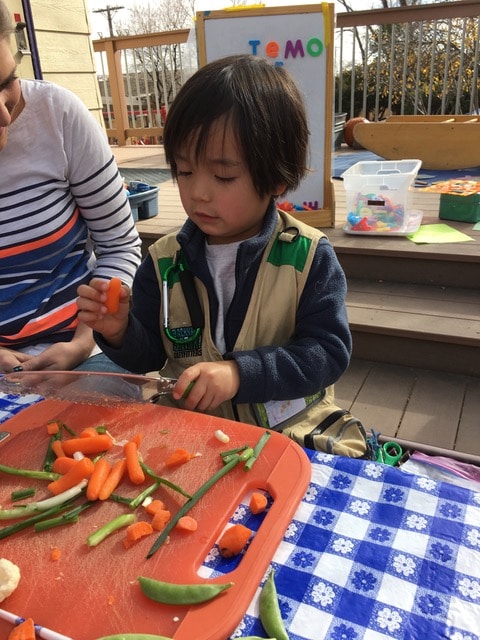 We simply added water (vegetable or chicken broth are both tasty options), salt and pepper, and boiled until the vegetables they were soft.
We served and enjoyed eating our soup!
Being the book lover that I am, I couldn't resist taking photos and creating a homemade book of our classroom Stone Soup experience to read and share with the class. After reading our homemade book (about our homemade soup!) children expressed their opinions about their favorite Stone Soup story by voting—with stones of course!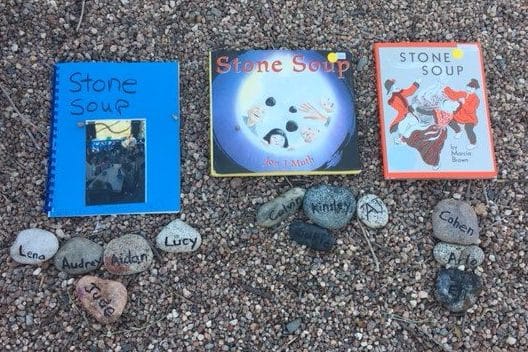 Happy cooking,
Sukie Jackson, Teacher
Not only do Ruth Washburn teachers help children learn about and practice social skills such as sharing, but we share with each other which makes us all better teachers. Friday afternoons from 12:15 PM to 3:15 PM teachers meet for professional development and to set up our classrooms for the following week.  Here are just a few examples of how sharing happens formally and informally during this precious time:
Lori (Young 3s) magically transforms her housekeeping area into the "Ruth Washburn Apple Market" and Jordan (Afternoon Explorers) creatively uses props to make a Farmer's Market in the North Classroom. It is most inspiring to see the many ways all teachers prepare engaging, inviting classroom environments each week and these set-ups are often shared from one classroom to another.
Ida (Young 4s) tells us about how she presents the parent-helping child with a sheet of written compliments at Circle Time including a compliment from her, one from the teaching assistant, one from her puppet Twiggle, and one from the child's parent. This is such a great idea that some of us can't resist "borrowing" this idea and using it in our own classrooms.
Katherine (Older 2s) buys pizza for the entire staff one day, choosing this way to celebrate with us an occasion in her personal life.
Our Executive and Education Directors Jen and Stacy present an article about self-regulation. In the process of discussing and better understanding this idea, teachers share examples of children (not by name) "under" and "over" regulating their emotions.
Cecelia (Young 5s) plants Indian Corn with her class. She not only gives tips on how to successfully do this experiment but she prepares cups with holes in the bottom for planting so other teachers can try this experiment with their classes also.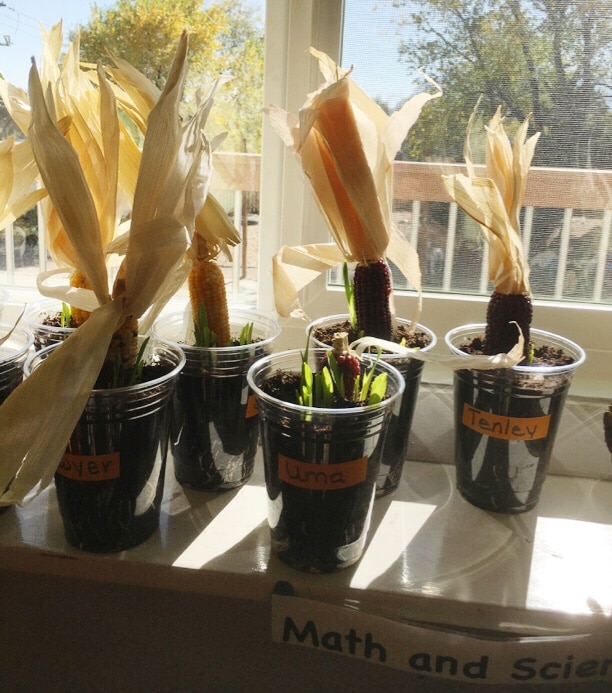 Sheli (Middle 3s) brings armloads of sunflowers to the school which brings science and the outdoors into each classroom. Sheli also finds many ways to share her expertise in nutrition with colleagues and parents.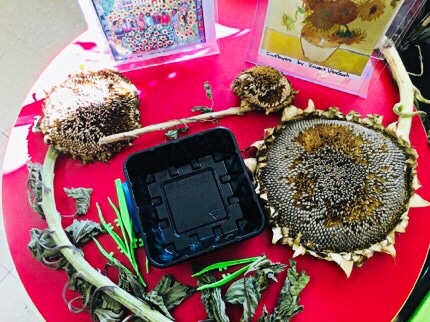 Mary Jean (Older 3s) has a green thumb and anytime teachers have garden or plant-related questions we can always go to her. She generously shares flowers from her home garden to be used for art and woodworking projects.
One of our first-year teachers Mahala (Morning Mixed Ages) always has a warm and sincere smile and tells us how happy she is to be teaching at Ruth Washburn.  This reminds us of how fortunate we are too.
Taylor (Older 4s) openly shares her wonderful sense of humor. Comparing notes about a frustrating online training course, we laugh hysterically at ourselves which is so much healthier than what we might be feeling (or doing!).
Britnni (Middle 4s ) is wise and calm.  When meeting with Britnni early this year, I confessed to her my hope that every day and every Circle Time go perfectly and my frustration with myself when things don't go just right. "How can I support you with this," Britnni asked, and support me she does every day as we share teaching the Outdoor Class together.
It is a privilege to work with such a giving and accomplished staff. It is wonderful that the Ruth Washburn tradition of closing the school Friday afternoons to allow teachers and administrators this important time together continues.
Sincerely,
Sukie Jackson,  Teacher
Why an apple party? For children to learn and develop, they need to be able to see, hear, smell, taste and touch things, and those things need to fit with their interests, abilities and experiences. In the words of Linda Crissey, former RW school director, speaking to a group of adults:
"To give an example of real-life experiences, let me show you these three things: a real apple, a plastic apple, and picture of an apple. Now suppose you had never heard of an apple and I gave one group of you the real apple, another the plastic apple, and another a picture of an apple. Which group do you think would have the best understanding of the word apple? And suppose I showed you a real apple but didn't let you touch it or smell it or lift it. Wouldn't that change how much you learned or understood about an apple?"
We are extremely lucky that on our Farm playground, we have an actual apple tree so the learning extends from the apple itself to where an apple grows and in some cases children discover the worm inside the apple!
How an apple party happens at our cooperative nursery school.
Temo and his family go apple picking and they donate a bag of apples to our school. Teachers gather a table, tablecloth, a child-friendly knife and apple-related books and to set under the school's apple tree. When children arrive, they are encouraged to dress up and attend the apple party at some point during the afternoon.
What do you do at an apple party?
Under the supervision of RW teachers, and Eli's mom Filia and his aunt Fiona, children cut an apple slice to snack on, enjoy apple stories under the tree, and try climbing the apple tree.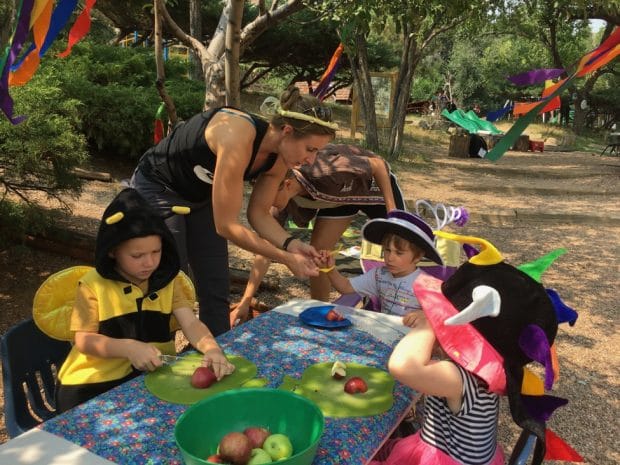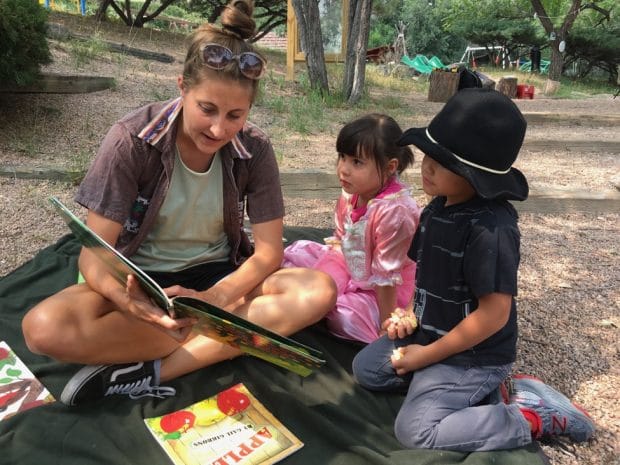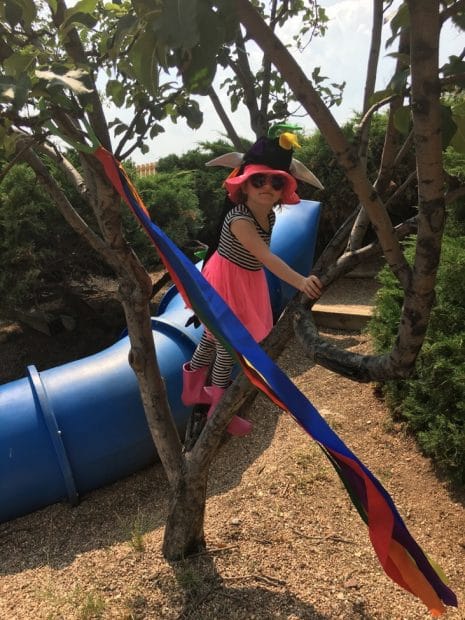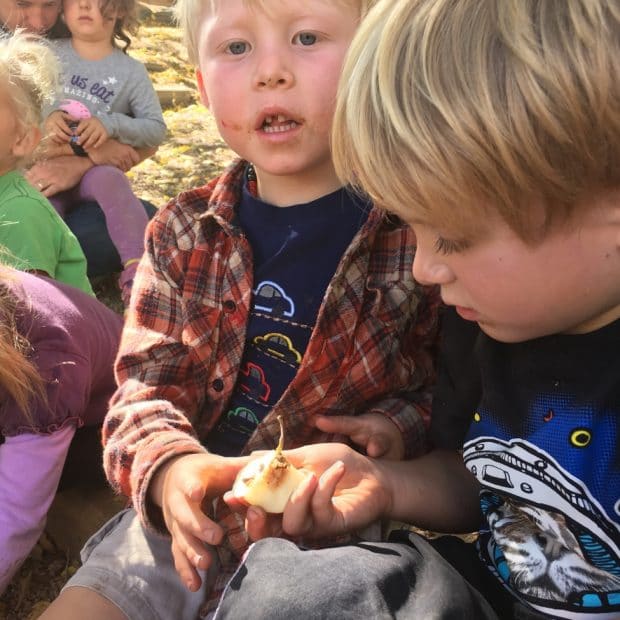 Children's question about the apple party at the end of the day.
Can we have another apple party tomorrow?
Happy Fall!
Sincerely,
Sukie Jackson
Your children will have many opportunities to make friends and to learn about being a good friend while at Ruth Washburn. RW parents also have wonderful occasions for developing friendships. Whether it is relaxing after class in Minnow's Room, participating on committee work, attending a class pot-luck, working a maintenance day or taking a parenting class, parents encounter many opportunities to build meaningful relationships.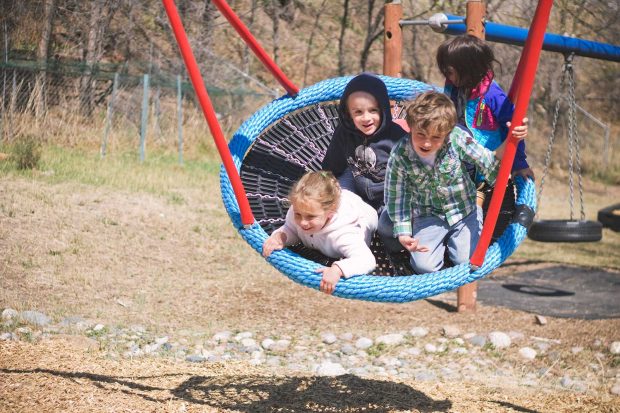 Here are some ideas for fostering friendships for both children and adults:
Plan a get-together with an adult friend that includes children. Meet at the park or a public place. Bring a snack to share. Sitting side by side on a park bench is a convenient way to meet.
Share your parenting challenges with other parents. Asking for advice opens the door for meaningful conversation and provides perspective on problems.
Take time away from children to foster adult friendships. Modeling healthy friendships in your own life will have a positive influence on your child's understanding of friendships.
Read books about friendship with your child to inspire conversation about what it means to be a good friend. See list below.
Welcome a variety of friends of all ages into your lives. These might include "school friends", "neighbor friends" or "dance class friends". While I've always loved and treasured best friends in life, I've learned that referring to them as a "best friend" excludes others and puts unnecessary pressure on a friendship to last.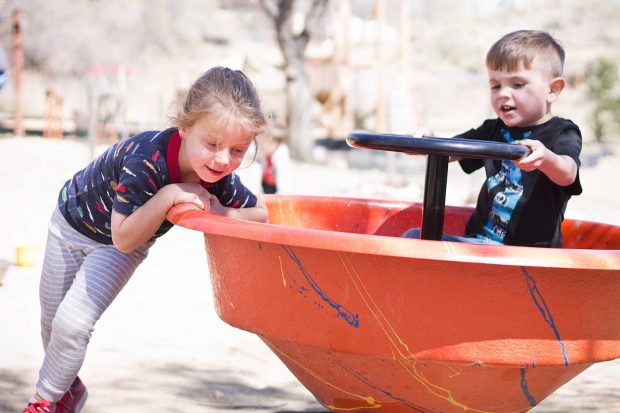 When interviewing alumni parents for her study, A Case For Play, former board president Deb Walker discovered the following: "When asked about any unexpected longterm benefits from participating in the Ruth Washburn community, 85% of participants cited long-lasting and deep friendships between parents and children alike……The consensus was that it was because of the high level of parent involvement that these enduring relationships were born."
It is certainly true that our family made many friends Ruth Washburn and that these friendships do endure! Our 26-year-old daughter is having her wedding officiated by her RW preschool classmate Jenny who graduated from Yale Divinity School.  I recently bumped into my "old" RW friend Jan.  When Jan and I were parents with children in the Middle 3s class in the early 1990s Jan often found me and my children hanging around at the school. Jan kiddingly offered me the advice, "get a life," implying that I spent way too much of my time and energy at Ruth Washburn.
Well here I am more than 25 years later….still hanging around at Ruth Washburn. I assured Jan that "I have a life!"
"RW librarian friend" Nancy Maday recommends reading these books about friendship with your children.
"A Splendid Friend Indeed" by Suzanne Bloom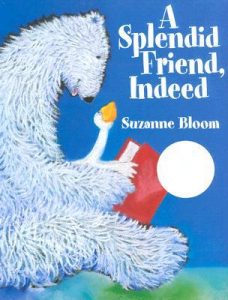 "Katie Loves the Kittens" by John Himmelman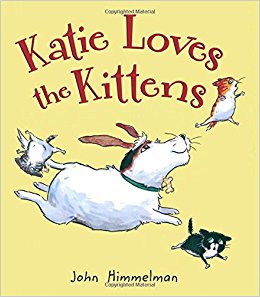 "Bear's New Friend" by Karma Wilson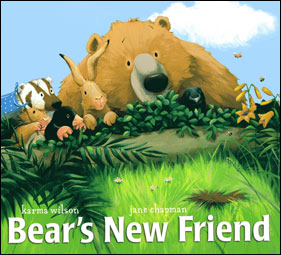 "Pepo and Lolo Are Friends" by Ana Martín Larrañaga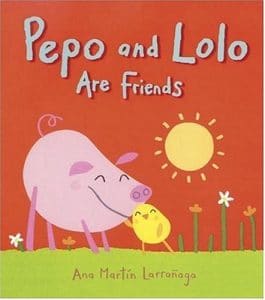 "Will You Be My Friend?" by Nancy Tafuri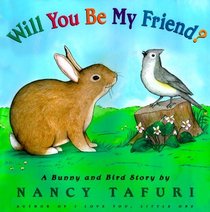 "My New Friend Is So Fun!"  by Mo Willems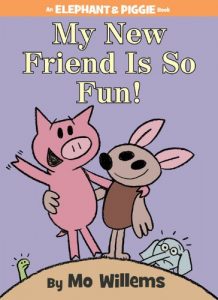 I will add Russell Hoban's book A Bargain For Frances to the list as an additional good book on the friendship theme.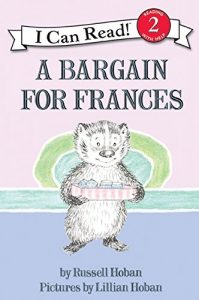 Your Friend,
Sukie Jackson
Teacher
Outdoor Class
Responding to Tragedy.
In response to the Sandy Hook Elementary School shooting in 2012, with the guidance of teacher Lois Arndt who now is a Somatic Trauma Resolution Therapist, our school shared the following ideas for helping children relieve stress.  I appreciate Lois' belief that "children are incredibly resilient and with our support can move through difficult times in healthy manner."
If your child expresses fear, sadness, etc., have them notice where they feel it in their bodies. As them to jump around, shake or do what their body needs to do.
Make up a story with your child about an animal who "freezes" because they are scared and have them act it out with you—curl into a ball, stand up, jump, shake, snort. Keep validating your child's physical responses. If they cry, encourage them to do what their body knows best—cry, tremble, etc. Temper tantrums may be more common. If children are safe, let them tantrum, but with your support (hand on their back, chest, etc.). Try not to discourage them from letting their feelings out but remind them that you are there to keep them safe. Ue works such as "that's ok," just let the scary stuff shake right out of you."
Encourage your child to rest, even if they don't want to—not necessarily sleep, but time with a book, playing with stuffed animals, doing art for example. For some children, drawing is very relaxing and sometimes  by drawing, they can then talk more about their fears. Try not to analyze their drawing, just be there with them and watch their body reactions. You might ask them to draw a picture of the place in their body where they feel their and anxiety.
Even though children pick up our anxieties, try to keep talking about scary situations at a minimum around children. And even though it is difficult, avoid having the TV on all the time, try to catch up on news when they are playing elsewhere.
Try to have come time each day that feels normal to your child, even if someone else needs tone the caregiver to help with that. A trip to the park, reading a favorite book, or taking advantage of story time at the public library.
Stress Management
The Turtle Technique is a relatively simple but powerful tool that teachers and parents can offer children to help calm them down in a variety of situations. I laugh thinking of our director Jen Filonowich who, after a staff training where we all learned and practiced the Turtle Technique, commented that she's been using it herself! I like it too. Please check out Center on the Social and Emotional Foundations for Early Learning (CSEFEL), the Technical Assistance Center on Social Emotional Interventions (TACSEI), and the SpecialQuest Approach for more resources.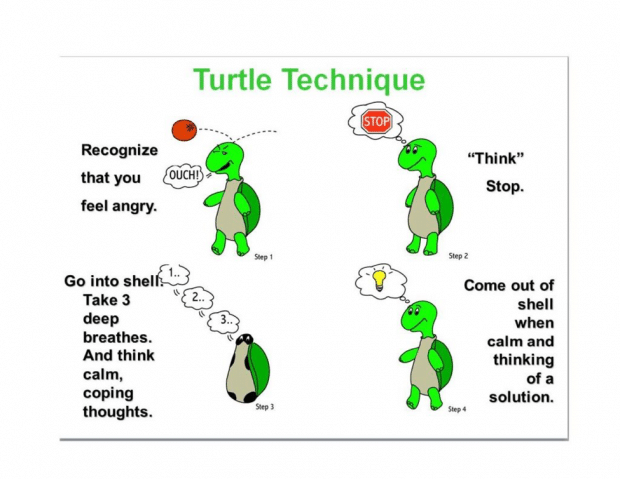 A Reminder to Keep a Sense of Humor
And then there is Rudyard Kipling's letter to his 12 year old daughter who was preparing for a trip to London….
Dear Bird,
(…)
I send you a few simple rules for Life in London.
1      Wash early and often with soap and hot water.
2      Do not roll on the grass of the parks. It will come off black on your dress.
3      Never eat penny buns, oysters, periwinkles or peppermints on the top of a bus. It annoys the passengers.
4      Be kind to policemen. You never know when you may be taken up.
5      Never stop a motor bus with your foot. It is not a croquet ball.
6      Do not attempt to take pictures off the wall of the National Gallery or to remove cases of butterflies from the National History Museum. You will be noticed if you do.
7      Avoid late hours, pickled salmon, public meetings, crowded crossings, gutters, water-carts and over-eating.
Ever your
Daddo
Having just sent our youngest Ruth Washburn alumna daughter off to New York City where she intends to pursue dance I wish my husband and I had written her a "dear bird" letter rather offer every possible reminder for safety that we have accumulated throughout life. So I haven't mastered how not to worry, but I'm definitely better.  A special thanks to Lois Arndt who has made helping others her full-time occupation.
Sincerely,
Sukie Jackson          Teacher
Everyday Play with New Additions to Our Backyard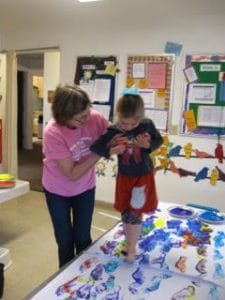 Teacher, Education Director and Assistant extraordinaire Karen Brown has been filling gaps at Ruth Washburn for many years in the best possible way. Karen starting teaching at our school in 1994. She brought professionalism, an expertise in Early Childhood Education, intentional teaching and many, many great themes and curriculum ideas that are still being used daily current teachers.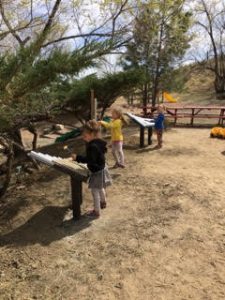 When an Education Director was needed, Karen competently stepped into that role and helped to mentor and assess teachers. Most recently Karen has served as assistant in the Middle 3s class.  Sadly for all of us who treasure Karen's presence at Ruth Washburn, she is retiring. In Karen's characteristically constructive way she and her husband David have donated the Wee Notes Ensemble as a retirement gift to the school. "I felt like there was a gap not having musical instruments outside and this seemed like a sturdy set that would last." It will be very difficult to fill the huge gap left by Karen's retirement, but we already love the music. Thank you Karen!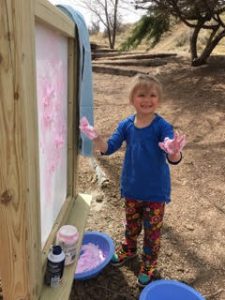 Tracy and Jim Volpe, parents of Hannah (Outdoor Class) and Haelyn (alumna) also identified a need. They recognized that a permanent outdoor easel would facilitate process art in a new setting.  How appropriate that the first person to break in this wonderful outdoor easel was their art-loving daughter Hannah! Hopefully every RW child will take a turn exploring art with this easel.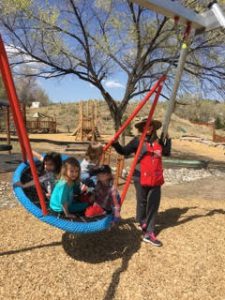 And last but not least, we now have a nest swing on the Prairie paid for with fundraising event proceeds.  For several years teachers have talked about the benefits of and need for swings for young children. The nest swing brings us an open-ended play structure ("it's a rocket"  "it's a giant pizza" "it's a bed")  that encourages cooperation among children. It has been pure joy to watch children explore this new swing.
Special thanks to our director Jen, her husband Aaron and son Hudson, and to Karen and David Brown for working overtime to acquire and install these new backyard play structures! Thank you to Kristin Schoonveld for a fun picture of Karen.
Sincerely,
Sukie Jackson, Teacher
next page »