Tag Archives: teach baseball
Everyday Play With Baseball
These spring days remind me of Ava's dad, Kevin, who as parent helper spent an entire outdoor play time pitching balls to the Older 4 children.
Kevin instinctively understood how to pitch so that each child holding the plastic bat had success.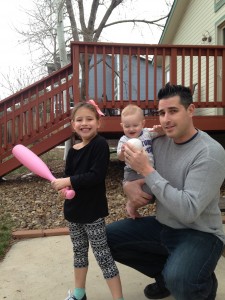 For the children who already knew how to hold a bat and swing, Kevin took several steps back and pitched strikes. These children didn't mind missing a few tosses. Kevin would pitch to them until they got a hit.
For those children who didn't know how to hold a bat, Kevin would model a stance and grip. He would pitch from close enough so that these children also made contact with the ball. A hit!
And for the children for whom swinging a bat didn't come naturally, Kevin basically aimed his pitch so that it would hit the bat wherever the bat happened to be.  Once again, success!
Kevin kindly responded to a child's request to play. He welcomed both boys and girls. Kevin pitched until the last child tired of the activity. All children participating had great fun playing "baseball" and eagerly waited for his or her time at bat.  No one worried about rules or the formal game of baseball.
Ann Epstein in The Intentional Teacher writes "the development of these fundamental manipulative skills (including catching/collecting) is critical for children's later participation in sports and games. Because some involve interacting with others, their mastery also opens a world of social relationships." Kevin offered a perfect age-appropriate practice session!
For learning the "catch" part of baseball, I recommend beginning by tossing a large stuffed animal back and forth with a  young child. This game can be varied by increasing the distance between you and your child. Once he or she gets good at this, try some high throws, or throws to the right or left. And eventually you can work your way to playing catch with a ball. If you are lucky enough to have a child with a great imagination, use a winter glove for a mitt.
Kevin's daughter Ava is now in kindergarten. We miss her but look forward to Kevin, his wife Amanda and their one-year-old slugger George at the school in the future. Thank you Kevin.
Batter up and play ball,
Sukie Jackson   Older 4s teacher
.