Tag Archives: September basket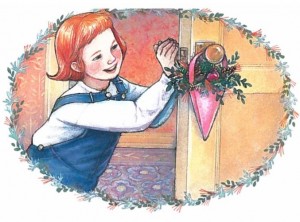 Everyday Play with september-may baskets
One cold September morning my four-year-old daughter Kimi had nothing to do. Her older siblings were happily occupied and I was happily reading. "Mom, there's nothing to do," Kimi said more than once.
I now know from experience that some of the best activities and ideas can come out of a time when there is "nothing to do."  This was one of those times. Kimi came up with the idea herself to make a May Day basket.
Her brother and sister thought this plan was hilarious due to the cold weather and the fact that it was September. That didn't stop  Kimi from getting large piece of pink construction paper. I helped to make a cone shape for the basket. She cut a paper strip for a handle and pushed the stapler to connect it to the basket.
Kimi put on her jacket, I got mine and outside we went. Still wishing I was back inside reading, I couldn't help but notice how how good the cold wind felt.  My daughter made me laugh seeing her outside with her pink May Day basket. I sat on the steps and watched as she picked dried mint, pine needles, some of the last crab apples, pine cones and oregano.
Back inside Kimi showed her basket to her brother and sister who complimented her on the colors and the good smelling mint. She proudly hung it on her bedroom door knob and we decided to call it a September-May Day basket.
I remember this day fondly. I felt grateful that my daughter reminded me of the wonder, beauty and excitement in my own life with the activity of making a September May Day basket with her.
I will be the first to admit that not every time Kimi was "bored" (how do they learn that word so young?) or with nothing to do resulted in such a creative, constructive activity. But many times it did. I was delighted to support her efforts to help herself with her bored, nothing-to-do state.
In our Ruth Washburn garden, so lovingly tended for by Cecelia and the Garden Committee, Ruth Washburn is the perfect place for children to enjoy the opportunity to explore and gather treasures making September-May Day baskets. Give it a try at home or in a local park and send us a picture of your version of a September May-Day basket!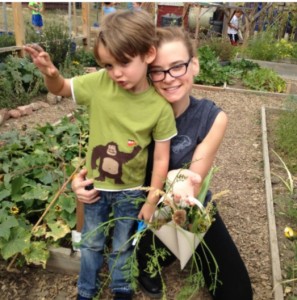 Lio and his mom Kate in the RW Garden
Sincerely,
Sukie Jackson, Older 4s teacher
Note— Illustration by Karen Dugan from September-May Day Basket in Ladybug Magazine.