Tag Archives: ruth washburn
Everyday Play with Tools
While remodeling a bedroom in preparation for the arrival of our second child, I spent many afternoons in hardware stores with lists of tools and materials to buy. Often, my two-year-old son, Kenji, was with me. It was his fascination with nails, tools, pipes, wood, chains and just about everything else there that started me purchasing hardware toys.
Here are some examples:
plastic toolbox (even the latch is engaging)
adjustable wrench (experiment with "jaw" widths)
putty knife (works great with play dough)
tape measure (look for one that has a gentle retractor)
plastic plumbing pipe pieces (a puzzle for the many ways these can be screwed together)
paintbrushes and a paint can filled with water (great for large motor skills and learning about evaporation)
pliers (try having your child pick up/clean up with these)
flashlight (a night walk is such an adventure)
What I liked about these hardware-store toys is they helped us to make our son a part of our everyday life. Each tool has a real purpose, and he could see what we did with tools to fix, clean, change or build. Like all parents, I am concerned about the safety of toys. I made sure to be in the same room or outside area supervising Kenji when he used these tools. I appreciated their durability and the many creative uses my son found for each one.
Although Kenji is a boy, I heartily recommend hardware toys for girls as well. These toys help children of both sexes become comfortable with tools from an early age and help them feel confident and independent.
In the same way that including children in work projects at home provides learning opportunities, Ruth Washburn Maintenance Days offer children the chance to watch, work and play alongside adults using a  variety of tools for the real purpose of readying the school for classes. The learning has already begun when children can see their parents model volunteering, a caring for the school environment and skills as they clean, fix and build.
RW graduate Kenji is now twenty-six years old. Playing with tools as a child prepared him well for his current tools, an otoscope and stethoscope. In his training to become a pediatrician Kenji's first year medical school  advisor just happened to be another RW graduate, Dr. Ben Scott.
Happy Hammering!
Sincerely,
Sukie Jackson   Older 4s teacher.
Painting Under the trees
I have always loved Georgia O'Keefe's painting,  the D H Lawrence Pine Tree. Our Ruth Washburn Summer Farm Camp for five year olds provided the perfect opportunity to share this favorite painting with children in an outdoor setting . Sitting under a grand pine tree at Redstone Castle, children commented on the painting:  "it's an octopus in space!", "a spider!"   a "tree!"  When we lay back and looked up from underneath our pine tree, Georgia O'Keefe's Lawrence Pine Tree  became clear to all. Children recognized the trunk, branches and a night sky. Letting children respond to the painting and then setting them loose to draw, paint and observe outdoors was the plan and this is what we did. Each child eagerly embraced the chance to create their own piece of art representing their unique and individual perspective.  It was glorious time spent!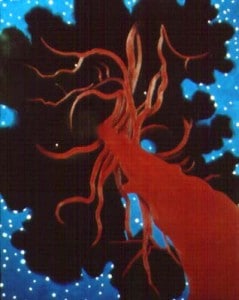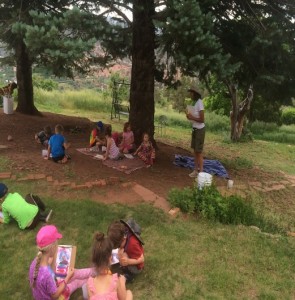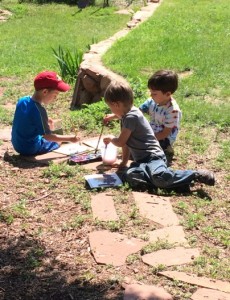 A simple outdoor easel/clipboard can be made with sturdy cardboard back, paper, hole punch, rubber band and pencil-size stick. Lay under a tree and look up. Provide him/her with paint, pencil, watercolors, pastels,  crayons—any tool for creating art. Let me know what happens!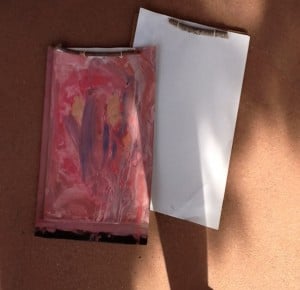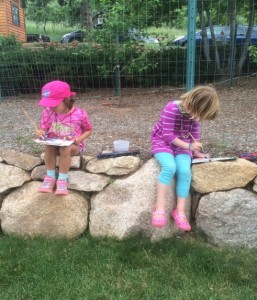 The Colorado Springs Fine Arts Center is presenting an exhibition featuring Georgia O'Keefe paintings through September 13th. Consider a family field trip.
Special thanks to Dan and Gail Stuart who offered their lovely property, Redstone Castle in Manitou Springs,  to our school for the week-long Farm Camp.
Sincerely,
Sukie Jackson  Older 4s teacher
*What outdoor art projects have you done with children?
It isn't quite the Dog Days of Summer yet, but when it is too hot to be outside in the middle of the day, why not try some of these doggy themed summer preschool activities?
THIS IS PUPPY'S DOGHOUSE
(fingerplay)
This is puppy's doghouse, (hands form peak over head)
This is puppy's bed; (hands out in front, palms up)
This is puppy's pan of milk, (cup hands together like a bowl)
Where he can be fed. (make licking motion)
This is puppy's collar. (encircle neck with fingers)
His name is on it, too. (nod)
Take a stick and throw it! (throwing motion) He'll bring it back to you. (rapidly pat leg with hand)
CHOW DOWN
Wouldn't it be fun to eat like a puppy?
Put a favorite dry cereal in one bowl, milk in another and lap up breakfast!
Use bone-shaped cookie cutter to make favorite cookies, biscuits or to cut toast into "doggy snacks."
KIBBLE TRAIL MIX
(a snack for people to eat!)
Create your own fun kibble snack.
Put one cup of any of the following ingredients into a bowl with a large spoon for stirring and scooping.
Give each child his or her own zip-lock sandwich bag and let them scoop themselves a snack.
Pretzels
Sunflower seeds
Dried apples
Almonds
Banana chips
Cheerios
Raisins
Graham cracker pieces
Coconut
Crispix cereal
Chex cereal
Looking for more fun doggy themed summer preschool activities?
Check out the Pikes Peak Library's Grow-a-Reader literacy kits with tons of ideas. Doggone Fun