Tag Archives: Play Doctor
Everyday Play With Four or Five Real Bandages
Every Day Play with Four or Five Real Bandages
The Housekeeping Area is the part of the classroom that Ruth Washburn teachers transform into grocery stores, flower shops, beauty salons, bike repair shops and pizzerias (among other places!) allowing children many options for role playing. A favorite set up among teachers and children is the pediatric hospital. With some minor adaptations, a parent could easily create a hospital (or doctor's office) environment at home to offer children the opportunity for rich, imaginative pay. Our Ruth Washburn pediatric hospital has these props:
"Open" and "Closed" and other signs for the office (these can be made by children).
Clipboard with a checklist and blank paper for writing prescriptions.
X-rays taped on windows.
Doctor's Kits with stethoscopes, aspirators and blood pressure gauges.
Real bandages and gauze. Children love to bandage dolls, stuffed animals, themselves, friends and willing adults.
Facial tissues, tape, scraps of fabric and bandanas are other materials that can be used for bandaging.
A couch, long pillow or sheet on the floor works too.
Health and Human Body Books. The 610 section of your library will have many non-fiction books from which to choose. Don't miss Tedd Arnold's three humorous books, Parts, More Parts, and Even More Parts. Children seem to love these.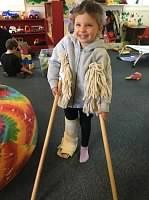 Thanks to the good imaginations of the children in the classroom, we improvise when it comes to props that we don't have. Check out Haleyn's makeshift crutches in the photo!
From my experience  every child has something to say about a time he or she was hurt or when he/she visited the doctor. The pretend pediatric hospital is the perfect setting in which a parent can talk to a child about doctor visits, injuries and/or the importance of good health.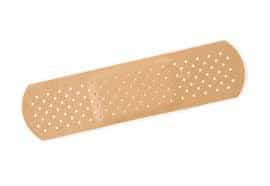 I'm all for simple.  While we have all many great props at our school for our pediatric hospital, all you need at home is a couch and four or five real bandages to inspire opportunities for role play.
Next time you are feeling exhausted, give your child four or five real bandages, lie down on the couch and tell your child that you need a doctor or a nurse! Let your child take care of you for a change. Well timed moans and groans and newly "hurting" body parts while acting as pretend patient can extend the play. If only you can keep from snoozing I'm pretty sure you are in for some fun!
Stay well. Sincerely,
Sukie Jackson, Older 4s teacher