Tag Archives: nest swing
Everyday Play with New Additions to Our Backyard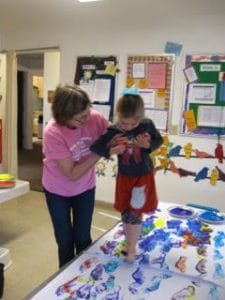 Teacher, Education Director and Assistant extraordinaire Karen Brown has been filling gaps at Ruth Washburn for many years in the best possible way. Karen starting teaching at our school in 1994. She brought professionalism, an expertise in Early Childhood Education, intentional teaching and many, many great themes and curriculum ideas that are still being used daily current teachers.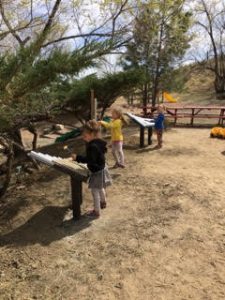 When an Education Director was needed, Karen competently stepped into that role and helped to mentor and assess teachers. Most recently Karen has served as assistant in the Middle 3s class.  Sadly for all of us who treasure Karen's presence at Ruth Washburn, she is retiring. In Karen's characteristically constructive way she and her husband David have donated the Wee Notes Ensemble as a retirement gift to the school. "I felt like there was a gap not having musical instruments outside and this seemed like a sturdy set that would last." It will be very difficult to fill the huge gap left by Karen's retirement, but we already love the music. Thank you Karen!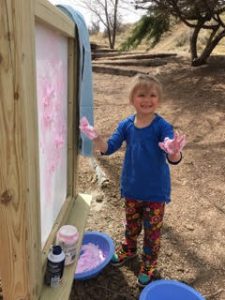 Tracy and Jim Volpe, parents of Hannah (Outdoor Class) and Haelyn (alumna) also identified a need. They recognized that a permanent outdoor easel would facilitate process art in a new setting.  How appropriate that the first person to break in this wonderful outdoor easel was their art-loving daughter Hannah! Hopefully every RW child will take a turn exploring art with this easel.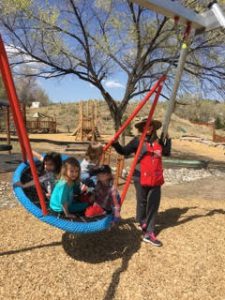 And last but not least, we now have a nest swing on the Prairie paid for with fundraising event proceeds.  For several years teachers have talked about the benefits of and need for swings for young children. The nest swing brings us an open-ended play structure ("it's a rocket"  "it's a giant pizza" "it's a bed")  that encourages cooperation among children. It has been pure joy to watch children explore this new swing.
Special thanks to our director Jen, her husband Aaron and son Hudson, and to Karen and David Brown for working overtime to acquire and install these new backyard play structures! Thank you to Kristin Schoonveld for a fun picture of Karen.
Sincerely,
Sukie Jackson, Teacher