Tag Archives: child imagination
Everyday Play With Boxes
It's Not A Cardboard Box.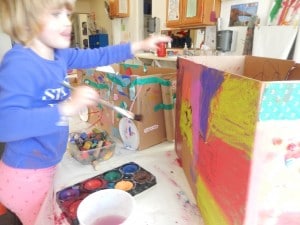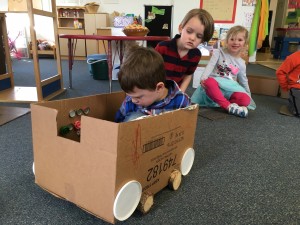 It's a….flying tent, an elevator, a book shelf, a doll's bed,  a race car called "Thunderbolt," a playhouse, a hospital, an airplane.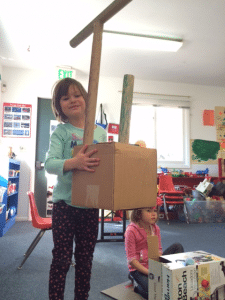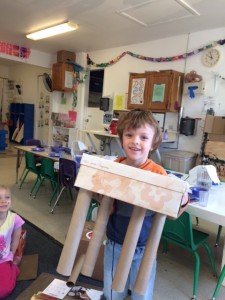 It's a process to give a child a plain and simple cardboard box and offer him/her  the opportunity to use planning, imaginative, artistic and building skills to create his/her very own box project. The steps are simple for facilitating this activity.
Find an empty box, preferably one without writing and graphics leaving plenty of space for children's decorations. A box big enough for the child to sit in is especially fun.
Brainstorm with your child some of the things the box could potentially become. By rotating the box into different positions you and your child can come up with a variety of possibilities. A jack-in-the-box, a vending machine, a pet's cage, a cave, a table, a garbage truck and so on.
During this brainstorming session, show your child a variety of ways you can support this project.

An adult can cut a door, window, circle, coin slot, skylight, windshield or whatever might need cutting.
Fabric scraps can be supplied for possible use as carpeting, curtains, wallpaper, cushions, blankets, and more.
A supply of recycled items including plates, plastic lids, aluminum foil, colored paper and old CDs can be glued on as buttons, wheels, house siding , dashboards and other uses dreamed by a child.
Paint, markers, crayons and colored pencils can add details and "finishing touches" to  the box.

Give the child the box and support him/her with what he/she needs from you. Sometimes it's as easy as cutting open a door or helping with glue. Children may want you want you to write a name or number on the box. I encourage children to do as much independently as they can.
Finally, enjoy watching a creative process at work. Your child will bring ideas and a plan to the project demonstrating his/her ability to think symbolically. And they will work to make their plan a reality.
"Tell me what you need," "tell me about your plan," and "tell me about your box" are perfect questions to support your child throughout the process.  Your children will enjoy reading the book It's Not A Box, by Antoinette Portis before, during and after the process of making his/her own cardboard box project. Both the book and the activity are celebrations of children's imaginations.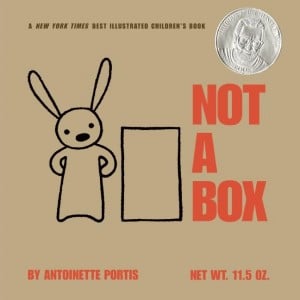 I'd love to hear about your child's cardboard box creation.
Sincerely,
Sukie  Jackson  04 Teacher
Help Your Child to Wonder
I have always loved an article written by environmentalist Rachel
Carson entitled, "Help Your Child to Wonder" which tells about how Ms. Carson shared the beauty and mystery of life with her nephew.
"One stormy autumn night when my nephew Roger was about twenty months old, I wrapped him in blanket and carried him down to the beach in the rainy darkness. Out there, just at the edge of where-we-couldn't-see, big waves were thundering in, dimly seen white shapes that boomed and shouted and threw great handfuls of froth at us. Together we laughed for pure joy…."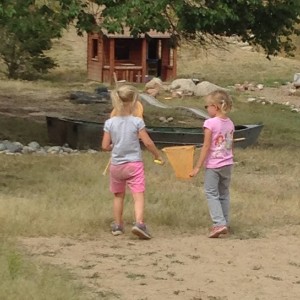 It was hardly a conventional way to entertain one so young, I suppose, but now with Roger a little past his fourth birthday, we are continuing that sharing of adventures in the world of nature that we began in his babyhood, and I think there results are good. That sharing includes nature in storm as well as calm, by night as well as day, and is based on having fun together rather than on teaching."
The article inspired our family to take "night walks" each year in December (these are some of my children's fondest memories from childhood) and make visits throughout the year to a shallow stream where bridge building, stick floating and river watercolor painting happened in a spontaneous way. Rachel Carson's gift of a magnifying glass to her nephew broadened my thinking about age-appropriate gifts for children. Small tackle boxes for collecting natural treasures, folding shovels that invited digging projects, flashlights for indoor and outdoor exploration and  a simple pulley and rope set were gifts that encouraged involvement in the natural world.
I have also grown to appreciate that Rachel Carson based her adventures on "having fun together." In this same article she writes "I sincerely believe that for the child, and for the parent seeking to guide him, it is not half so important to know as to feel. If facts are the seeds that later produce knowledge and wisdom, then the emotions and the impressions of the senses are the fertile soil in which the seeds must grow."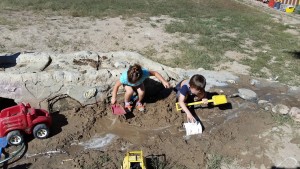 If you are wondering about outdoor education at Ruth Washburn, please join us  on January 21 at 6:00 PM in Minnow's Room for a presentation and discussion about Outdoors 4s and 5s, a new class that will be offered in the fall. We would love to hear your thoughts about sharing the outdoors with young children.
Sincerely,
Sukie Jacksone, Older 4s teacher