Our Board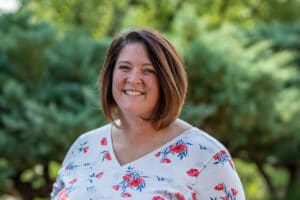 Teresa Aten is a lifelong resident of Colorado Springs, having graduated from Coronado High School in 1995.  She attended the University of Colorado at Colorado Springs (UCCS) with a major in Chemistry and a minor in Spanish.  While attending UCCS,  she was a founding member of the Iota Kappa Chapter of the Phi Sigma Sigma sorority.  After college, she continued to serve as that sorority chapter's key advisor, founded the Colorado State Phi Sigma Sigma alumnae chapter, and also served as the national events committee chairman for the entire Phi Sigma Sigma organization based in Baltimore, Maryland.  She also ran a wedding and events planning business, and has been instrumental in the planning and organization of events at the local, state, regional and national levels.
Teresa has also been very active in local charities, including serving on the Games Operating Committee for the Southern Colorado Special Olympics,  the planning committee for several Red Ribbon Balls for the Southern Colorado AIDS Project, as well as charity work for the National Kidney Foundation and the Phi Sigma Sigma foundation via her sorority work.  
Teresa discovered the Ruth Washburn community when she and her husband, Rich, enrolled their 2-year old daughter Ellie into the Seeds class in 2020.  She was immediately drawn to the co-op concept that allowed her to participate in helping the organization that is doing such great work with her daughter.  Teresa's interests include golf, bowling, crafting, hiking and getting into new adventures with Ellie and Rich.
Mary Jeanne Benner-Knopp moved to Colorado Springs from the Chicago area in 1982. (Go Cubs) All three of her children are Colorado Natives and Ruth Washburn Alum.  While in Colorado Springs, she taught for several years at Corpus Christi School and at Ruth Washburn from 1988-1995.  The Ruth Washburn School and its philosophy have been an integral part of her own teaching and parenting ever since.
She received her undergraduate degree in Elementary and Early Childhood from Western Illinois University. After moving to Colorado, she attained her Masters in Early Childhood and License in Special Education while attending UNC and CU Denver.   Which led her to District 20 where she worked for 18 years as the Preschool Specialist/Child Find Coordinator.  Over the years she has volunteered in many of the activities her own children were involved in, including her favorite as a Ruth Washburn parent helper and committee member.
Her husband Steve helped with her classroom setup and was the chair of the maintenance committee when Brendan attended RW.  They also were frequent supporters of RW auctions and the annual appeal.
After graduating from CU Boulder, her daughter Kristy is living in Hermosa Beach working for a lighting company.  Holly lives here in Colorado Springs and is looking forward to her son Sawyer, attending Ruth Washburn next year.  Brendan is working on completing his Associates in Construction Management, after completing two years of Jr. College baseball.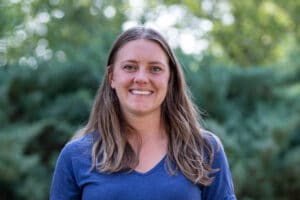 Phoebe Bullard grew up in the rich culture of Taos, New Mexico.  She attended the University of New Mexico, where she was recruited to be a cheerleading team member. Yearning for a change of scenery she moved to San Diego to enjoy sunny days and ocean waters.  In 2015, she and her husband, Christian, wanted to explore the mountains of Colorado and moved to Colorado Springs. She is currently attending the University of Colorado at Colorado Springs (UCCS), studying sociology and women and ethnic studies.
Phoebe discovered Ruth Washburn while searching for an outdoor preschool program for her eldest daughter.  It was a great experience, and she appreciated the parent collaboration and social play-based curriculum offered.  Phoebe and her family have now been with Ruth Washburn for 5 years and her youngest child will be starting this year.
She is in her second year as a board member and is serving as Vice-President as well as chairing the diversity, equity, and inclusion committee.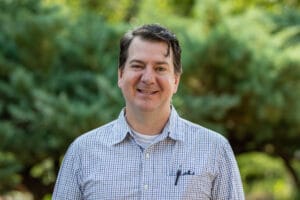 Demi Clinton first moved to Colorado Springs from Dayton, Ohio in 2007 and fell in love with the area and Colorado immediately. His wife is in the Air Force and they moved away to Utah, then Virginia, and now they are back in Colorado to stay. They have an 11-year-old son who attended a cooperative preschool in Virginia and will soon be a big 6th grader. Their middle son, Jax, attended Ruth Washburn for 2 years and heads off to 1st grade this fall. Their youngest, Jesiah, starts his first year at Ruth Washburn this fall as a 3-year-old. Before becoming a stay-at-home dad, Demi taught special education for almost 10 years and he currently has a Ph.D. in special education leadership. He and his wife look forward to exploring more of Colorado and enjoying their time with the boys as much as possible.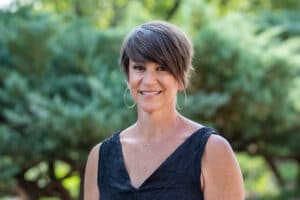 Suzanne Dillon has lived in Colorado Springs for more than 20 years, interspersed with adventures living, working, and creating elsewhere. Her eldest completed three years at Ruth Washburn and is now rockin' third grade. This year, Suzanne's twins joined the Ruth Washburn family as members of the Seeds class, and they are LOVING school.
This is Suzanne's fifth year on the Board of Governors. Suzanne has a background in education, grant writing, and the arts. She's a compulsive grammar corrector (sorry!), loves getting riled up about preserving art and history, and enjoys after-dinner mosh pits with her husband and their three favorite punk rock collaborators.  
Ruth Washburn stole Suzanne's heart the moment she stepped foot on the playground. Her love for the school, the incredible staff, and the broader Ruth Washburn family continues to grow. She hopes to contribute her fundraising experience, robust community connections, and creative problem solving skills to the Board of Governors and the school at large for years to come.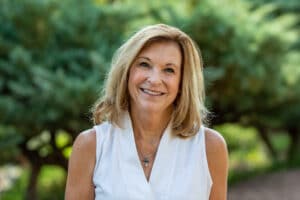 Jackie Florendo moved to Colorado Springs from Nebraska in 2013. Jackie & her husband Collyn moved to be closer to their children who graduated from Colorado School of Mines and settled in the greater Denver area. 
Upon moving to the Springs, Jackie became Council Coordinator for Alliance for Kids, the Early Childhood Council for El Paso County, and became acquainted with the Ruth Washburn community.  As the Coordinator for the Council, she was thankful the community had such a gleaming example of a high-quality, play-based school for the community, which mirrors some of the Reggio philosophy. In addition, she witnessed the expertise of the RW team who also deeply cared about the children & families they serve, led by an awe-inspiring director who shared her talents serving on Alliance's Council (governing board).
Jackie's professional education entails a deep-rooted background in early childhood education and administration in which she holds an Education Doctorate (Ed.D.) in Education Administration with an emphasis in early childhood.  Her professional career consists of her role as Council Coordinator up to fall of 2020, a higher education instructor in early childhood education for undergrad and graduate students, and a doctorate graduate assistant at the University of Nebraska for instruction and research.  
Jackie currently serves as a Research and Resource Development Consultant for Joint Initiatives for Youth and Families, the fiscal agent for Alliance for Kids.  This new role allows her much more flexibility and travel time to see family and to serve her community and church. Jackie and her husband enjoy taking advantage of the beautiful Colorado hiking and running trails as well as the mountains.   Jackie hopes to contribute her knowledge of early childhood, the expertise she has gained as Council Coordinator, as well as her skills in public policy and resource development with the RW community.   
Dave McAdams has made Colorado Springs his home with his beautiful wife and 2 children since 1986.   His 12-year-old son is a RWCNS graduate and his 4-year-old daughter is currently having a great time in the "Honey Bees" class this year.  They love RWCNS because the school helps strengthen a family culture of lifelong learning and play!
Dave has been on the Colorado Springs Fire Department as a professional Firefighter for 18 years.  In addition to having a career that he loves, he and his wife enjoy building business ventures.  Their current businesses are a successful State Farm Insurance and a Rocket Professional Mortgage Brokerage.
Dave has served in many different leadership capacities within the community including as the RWCNS board Treasurer from 2014-2016, when the team at the time was able to accomplish such concepts like establishing the RWCNS endowment fund.  Currently, he holds the President position with the Colorado Springs Firefighters Foundation.
Dave's family works hard and plays hard.  They travel all around Colorado doing crazy outdoor activities and travel out of state once or twice a year to places like Hawaii or Disneyland.  He loves beaches, rivers, lakes, and just about anywhere else you can splash around and get messy.  They are busy, but they are very blessed to have such great opportunities.  Dave is excited to contribute his skills to the RWCNS board and watch the love his daughter will have for RWCNS, just as his son did.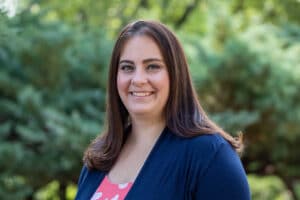 Heather Meizis relocated back to Colorado in 2008 with her husband Jeremiah after attending college in the Midwest. Their daughter is a soon-to-be RWCNS graduate and their son will start in the Fall of 2021. Heather is a Social Worker in the Colorado Springs area and focuses her work on serving individuals with disabilities. As a first-time parent, Heather was immediately comforted by the culture of caring and dedication to the children within RWCNS and knew this co-op would be a great fit for her family. Heather and her family enjoy traveling, spending time outdoors, and love to explore all that nature in Colorado has to offer. Heather is completing her first year on the Board and participated in the Strategic Planning sub-committee and is excited for the opportunity to contribute to RWCNS in ways that reach outside of the classroom.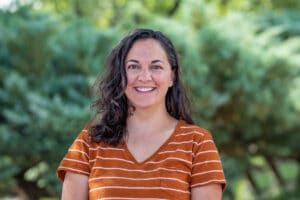 Lianne Mercer grew up in Longmont, Colorado, and then moved around a lot before finding a place to settle in Colorado Springs in 2017.  She has a Bachelor's Degree in Nursing and has worked as an intensive care nurse, a public health nurse, including school nursing and maternal child nursing, and is currently employed as a lactation nurse.  She has a passion for caring for and supporting individuals and families.  She found Ruth Washburn in 2018 for Glenn who is in his last year at Ruth Washburn as an Outdoor Cricket and looks forward to DJ thriving in the school as a Sprout next year.  Ruth Washburn has given her family a community, helped her and her husband, Jeremy, grow as parents, and provided a safe place for her children to thrive.  They are grateful participants in the Colorado Preschool Program.  Lianne enjoys attending the football games Jeremy coaches, doing outdoor activities, and reading or listening to books when she has a spare minute.  She believes in the power of the Ruth Washburn community and is excited to serve the community that has given her family so much.
Carly Mojica was born and raised in North Carolina before finding her way home to Colorado almost 20 years ago. She knew from the moment she set foot into a Ruth Washburn classroom and saw children covered in paint that she had found her people. Her love for the school grew as she got to know the community of parents and staff. Carly appreciates how the teachers nourish her children's curious nature and recognize them as people with feelings and emotional needs.
Carly is in her third year serving on the Board of Governors, currently in the role of President. She helped establish the school's first committee dedicated to advancing diversity, equity, and inclusion. It is an honor to give back to the school that has given so much to her family over the years.
Her professional background includes user experience design and operations. In her spare time, Carly enjoys reading, taking pictures, and hiking with her family.
Gil Stewart is married to his wife of 37 years, Deborah. They have 5 children, 8 Grandchildren, and 3 Great Grandchildren. 2 of his grandchildren are Ruth Washburn Alum. Gil was in the military for 3 years, has owned and managed Century 21 Cornerstone Realty, Kaymar Management, International Connections, and Stewart Rentals. He has served on several boards including a 9 county Board Of Realtors, Easter Seals, United Way, Junior Achievement, Multiple Sclerosis, Community Housing Resource Board, Missions Board, Skate America, etc. He is an Eagle Scout, 6 Degree Black Belt Hapkido, Real Estate Investor, and skier. This is his first year on the Ruth Washburn Board of Governors.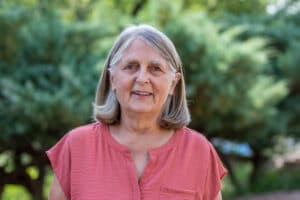 Judy Van Valin is serving her second year on the Board. She and her husband Dana grew up in northwestern Indiana and moved to Colorado Springs in 1976. They are the proud parents of three children and have three grandchildren. Judy earned her BS in Elementary and Special Education from Indiana University, a Master of Arts Degree in Curriculum and Development from Lesley University, and a Professional Licensure for School Administrator from Denver University. She worked in public education for 32 years; the first 22 as a teacher and finished her career as an administrator in Special Education. As an administrator in Academy School District 20, she had the pleasure of being the supervisor of the District's preschool programs. Judy places great value on family and enjoys spending time with their children and grandchildren. She and Dana enjoy the out of doors and spend time hiking, horseback riding, and kayaking. She recognizes what a wonderful early childhood setting Ruth Washburn is and appreciates the quality of services for children, the family involvement, and the variety of choices for families it offers. Her grandson Rylan just finished his last year at Ruth Washburn and the family will miss the wonderful caring staff and the age-appropriate learning environment and instruction.