Not only do Ruth Washburn teachers help children learn about and practice social skills such as sharing, but we share with each other which makes us all better teachers. Friday afternoons from 12:15 PM to 3:15 PM teachers meet for professional development and to set up our classrooms for the following week.  Here are just a few examples of how sharing happens formally and informally during this precious time:
Lori (Young 3s) magically transforms her housekeeping area into the "Ruth Washburn Apple Market" and Jordan (Afternoon Explorers) creatively uses props to make a Farmer's Market in the North Classroom. It is most inspiring to see the many ways all teachers prepare engaging, inviting classroom environments each week and these set-ups are often shared from one classroom to another.
Ida (Young 4s) tells us about how she presents the parent-helping child with a sheet of written compliments at Circle Time including a compliment from her, one from the teaching assistant, one from her puppet Twiggle, and one from the child's parent. This is such a great idea that some of us can't resist "borrowing" this idea and using it in our own classrooms.
Katherine (Older 2s) buys pizza for the entire staff one day, choosing this way to celebrate with us an occasion in her personal life.
Our Executive and Education Directors Jen and Stacy present an article about self-regulation. In the process of discussing and better understanding this idea, teachers share examples of children (not by name) "under" and "over" regulating their emotions.
Cecelia (Young 5s) plants Indian Corn with her class. She not only gives tips on how to successfully do this experiment but she prepares cups with holes in the bottom for planting so other teachers can try this experiment with their classes also.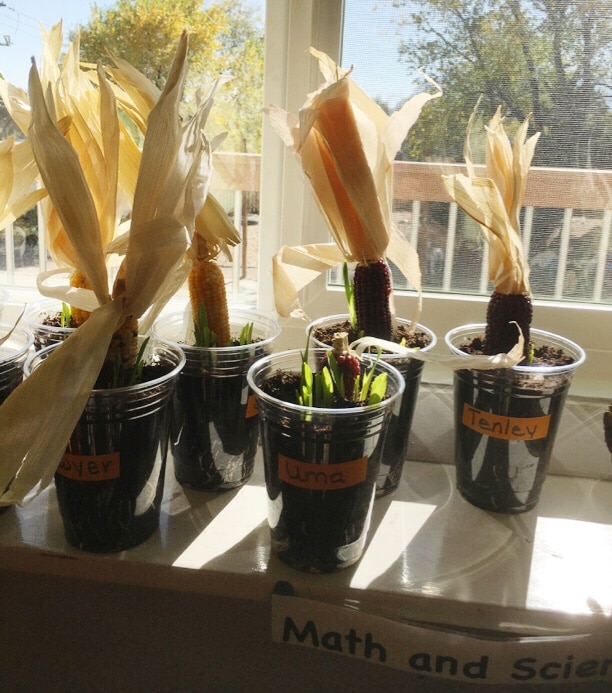 Sheli (Middle 3s) brings armloads of sunflowers to the school which brings science and the outdoors into each classroom. Sheli also finds many ways to share her expertise in nutrition with colleagues and parents.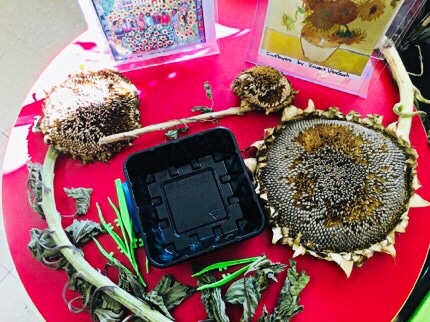 Mary Jean (Older 3s) has a green thumb and anytime teachers have garden or plant-related questions we can always go to her. She generously shares flowers from her home garden to be used for art and woodworking projects.
One of our first-year teachers Mahala (Morning Mixed Ages) always has a warm and sincere smile and tells us how happy she is to be teaching at Ruth Washburn.  This reminds us of how fortunate we are too.
Taylor (Older 4s) openly shares her wonderful sense of humor. Comparing notes about a frustrating online training course, we laugh hysterically at ourselves which is so much healthier than what we might be feeling (or doing!).
Britnni (Middle 4s ) is wise and calm.  When meeting with Britnni early this year, I confessed to her my hope that every day and every Circle Time go perfectly and my frustration with myself when things don't go just right. "How can I support you with this," Britnni asked, and support me she does every day as we share teaching the Outdoor Class together.
It is a privilege to work with such a giving and accomplished staff. It is wonderful that the Ruth Washburn tradition of closing the school Friday afternoons to allow teachers and administrators this important time together continues.
Sincerely,
Sukie Jackson,  Teacher