Everyday Play with Playdough (and Annie!)
Our childhood friend/neighbor is Ruth Washburn graduate Mattie Schwall (2001). When Mattie comes home for holidays all of our family members look forward to seeing her.
Mattie is pursuing a PhD in molecular biology and genetics at Louisiana State University. We are both proud of and interested in Mattie and her work. But quite honestly, we are even more excited to see Mattie's two-year-old daughter Annie!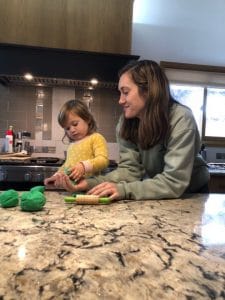 With COVID-19 preventing us from giving Annie hugs and in-person attention I decided this year to make playdough for Mattie, a skill learned as a teacher and parent at Ruth Washburn.
What is so great about playdough? The NAEYC (National Association for the Education of Young Children) article "Playdough Power" nicely summarizes the value of this material for play.
"This simple preschool staple lets children use their imaginations and strengthen the small muscles in their fingers—the same muscles they will one day use to hold a pencil and write. Using playdough with you, a friend, or siblings supports your child's social skills such as sharing, taking turns, and enjoying being with other people. Playdough also encourages children's language and literacy, science, and math skills—all at the same time!"
In normal years Ruth Washburn classrooms have homemade play dough available to children every day during preschool. Here is the tried-and-true Ruth Washburn recipe for play dough if you would like to give it a try at home:
PLAYDOUGH RECIPE
(makes enough for 3 children) 1 cup flour
1 Tablespoon cooking oil 1 cup water
1/4 cup salt
2 teaspoons cream of tartar
food coloring (optional)
If using food coloring, put it in water. Combine all ingredients and cook over medium heat. Stir constantly until ball forms. Remove from heat. Knead ball of dough until smooth. Store in airtight container. The recipe may be doubled or even quadrupled.
Sincerely, Sukie Jackson