Cooking Up Fun and Learning with Kitchen Utensils
I'm a big fan of the creative use of kitchen utensils. When my daughter was still in a high chair, I would pull her chair up to the utensil drawer and let her play while I did cooking alongside her. I put a towel over the drawer side so she couldn't pinch her fingers by closing the drawer and I was careful to remove any utensils that might pinch, poke or cut. That still left many items with which to play: wooden spoons, a whisk, spatulas and measuring cups. A small sauce pan can be placed in the open drawer and a child can take on and off the lid, and fill and empty the pan, all under the watchful supervision of an adult.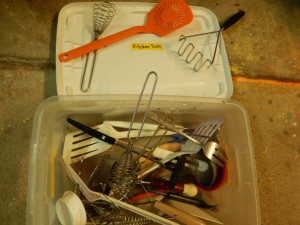 Ruth Washburn teachers, over the years, have found many creative uses for kitchen utensils. A favorite of all of us is Kitchen
Gadget Art. We have a bin in the school basement which contains a potato masher, several spatulas, and a boing whisk (even if you don't use or want one, you must buy one for the art and fun word potential of "boing!"). Dipping these utensils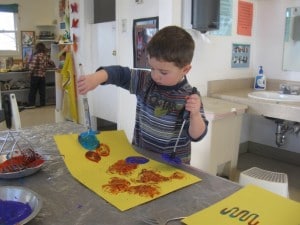 into paint and then using them to print offers children endless possibilities for pictures and patterns along with the opportunity to engage with a real tool. And you will have an entire refrigerator's worth of art after this project!
Another basement bin contains egg beaters. We use them in sensory tubs with water and dish soap. Bathtubs are the ultimate sensory tub for young children. Children can stir up a lot of fun with measuring spoons, non-breakable measuring cups and spoons and a variety of utensils in the tub.  In our study of Simple Machines in the classroom, Morning Mixed Age teacher Kristi used kitchen utensils with children as levers ( forks, cake frosters and spatulas) and wheels ( rolling pins and egg beaters).
Of course the very best use of utensils is cooking with children.  Molly Katzen in her book  Pretend Soup lists the many benefits of cooking with youngsters:
A blossoming of creativity and a sense of aesthetics
Confidence and self esteem: A feeling of accomplishment
Early math skills (counting, measuring, sequencing of events, and understanding of time)
Small motor-skills; hand eye coordinaton
Strength and endurance (stirring batter or spreading cream cheese can be hard work if you are three feet tall)
Patience and self control (waiting for that pizza to come out of the oven is a challenge)
Language skills (observing, describing, predicting outcomes)
Ability to follow directions
A sense of teamwork
Try cooking up some fun and learning with utensils in your kitchen!
Sincerely, Sukie Jackson                Older 4s Teacher
Thanks to Kristin Schoonveld for photos.