Everyday Play With Boxes
It's Not A Cardboard Box.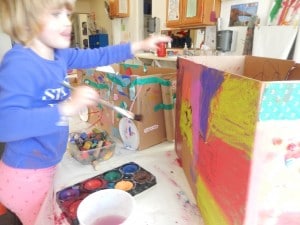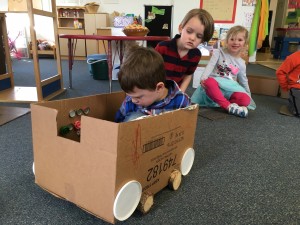 It's a….flying tent, an elevator, a book shelf, a doll's bed,  a race car called "Thunderbolt," a playhouse, a hospital, an airplane.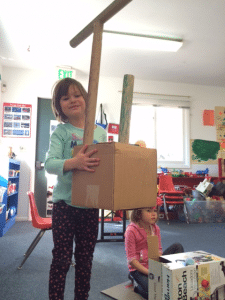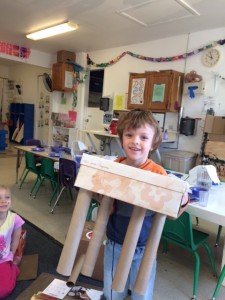 It's a process to give a child a plain and simple cardboard box and offer him/her  the opportunity to use planning, imaginative, artistic and building skills to create his/her very own box project. The steps are simple for facilitating this activity.
Find an empty box, preferably one without writing and graphics leaving plenty of space for children's decorations. A box big enough for the child to sit in is especially fun.
Brainstorm with your child some of the things the box could potentially become. By rotating the box into different positions you and your child can come up with a variety of possibilities. A jack-in-the-box, a vending machine, a pet's cage, a cave, a table, a garbage truck and so on.
During this brainstorming session, show your child a variety of ways you can support this project.

An adult can cut a door, window, circle, coin slot, skylight, windshield or whatever might need cutting.
Fabric scraps can be supplied for possible use as carpeting, curtains, wallpaper, cushions, blankets, and more.
A supply of recycled items including plates, plastic lids, aluminum foil, colored paper and old CDs can be glued on as buttons, wheels, house siding , dashboards and other uses dreamed by a child.
Paint, markers, crayons and colored pencils can add details and "finishing touches" to  the box.

Give the child the box and support him/her with what he/she needs from you. Sometimes it's as easy as cutting open a door or helping with glue. Children may want you want you to write a name or number on the box. I encourage children to do as much independently as they can.
Finally, enjoy watching a creative process at work. Your child will bring ideas and a plan to the project demonstrating his/her ability to think symbolically. And they will work to make their plan a reality.
"Tell me what you need," "tell me about your plan," and "tell me about your box" are perfect questions to support your child throughout the process.  Your children will enjoy reading the book It's Not A Box, by Antoinette Portis before, during and after the process of making his/her own cardboard box project. Both the book and the activity are celebrations of children's imaginations.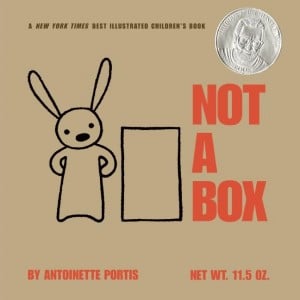 I'd love to hear about your child's cardboard box creation.
Sincerely,
Sukie  Jackson  04 Teacher