Category Archives: Uncategorized
There is so much potential for playful interactions with your child based on William Steig's book Pete's A Pizza.
A short review from Publisher's Weekly summarizes the book."Mr. Steig introduces a game guaranteed to produce a good mood. On a rainy day, title character Pete flops down on the couch in an attitude of despair. His father notices, and "he thinks it might cheer Pete up to be made into a pizza." Pete allows himself to be carried into the kitchen, where he is kneaded and tossed like dough. "Next, some oil is generously applied. (It's really water.)… And then some tomatoes. (They're really checkers.)" Pizza-Pete bakes on the couch, (a.k.a. the pizza oven), but when it's time to cut slices (with a karate-chop gesture), ""the pizza runs away and the pizza-maker chases him."
Here are some variations on"reading" the book with your child.
1) Simply read this book aloud.The book begins with Pete in a bad mood. What is a bad mood? Have you ever been in a bad mood? This is a great topic to share with your child!
2) Gently "knead"and  "stretch" the child's arms and legs as you read with your child on your lap or beside you. Pretend to whirl and twirl and sprinkle on ingredients. And give a gentle tickle when "Pete the Pizza" laughs.
3) Put a blanket on the floor and when Pete gets made into a pizza, do the same actions with your child including "whirling" and "twirling" your child in the air. When it's time to cook the pizza put him/her onto the sofa. Encourage the child to run away before being sliced! And don't forget the best part, give the child a hug at the end.
4) Use a recycled pizza box to make props for pizza making. Torn paper strips make great "cheese" and "pepperoni". Do you have anything that could be used for powder? Water in a spray bottle could be oil. Or water in a small bowl could be sprinkled. Your child can help you create this Pete's A Pizza activity box. You and your child can take turns being the pizza maker and the pizza.
5) Make real pizza with your child. There are so many variations from easy (melted cheese on an English muffin)  to more involved (making homemade dough offers children the wonderful opportunity to knead and stretch real dough).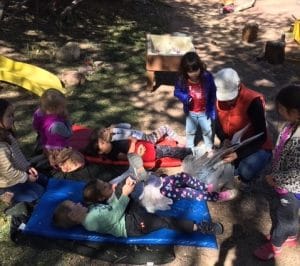 I enjoy reading this book with children outdoors. When the pizza runs away, off the children go! We have the fun of corralling them back to our reading blanket and the joy of giving the "pizza's" a hug at the end. Give this book a try!
Sincerely,
Sukie Jackson  Teacher
Everyday Play with a Stump In Your Backyard
Are you stumped about why a stump is recommended as great addition to a child-friendly backyard? A stump can be a lot of things. A chair, a table or best yet, a woodworking center.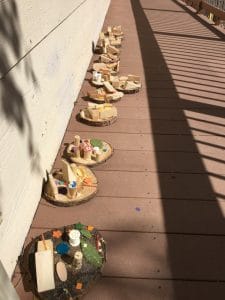 With a stump, some basic tools and Ruth Washburn woodworking centers as inspiration here are some ideas for using a stump to stage a variety of activities. Before introducing the stump as a woodworking area, be sure to provide safety goggles or glasses for your child. Children will need adult supervision while working with tools.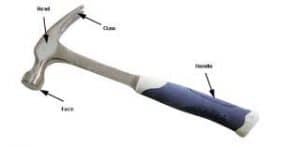 Practice hammering! Begin by introducing the parts of a hammer. Children can usually guess which part is the claw. Introduce the face, the head and the handle. Hold the hammer near the head and demonstrate "tap, tap, tapping" a nail to get it started. Move your hand down the handle of the hammer and "pound, pound, pound" until the nail is driven into the soft surface of the log. Children will love to tap, tap, tap and pound, pound pound.  A gentle way to begin hammering is by using golf tees, a wooden mallet and stiff styrofoam.
Children can learn that a nail can be used to attach two things together. Have available bottle caps, paint strip samples, pieces of cardboard or cloth squares to hammer onto the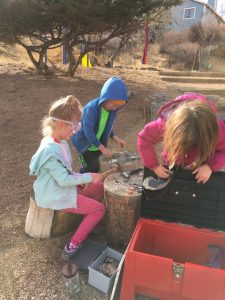 log.
Pumpkins provide a very easy surface for hammering. Once children can drive a nail into the stump, they may want to practice hammering wood scraps. And then hammering wood scraps together. At this point they have begun to build. Have plenty of wood scraps available. Our family still has the wood sculpture (doorstop!) our now twenty-nine-year-old son made at Ruth Washburn as a four-year-old.
Once in a while, after all this hammering, you may want to introduce the claw and it's function to remove nails and hammered items to keep the surface of the log clear.
Provide wood glue, wood scraps and a glue brush. Children can glue together wood pieces to make imaginative sculptures. These will become castles, "the tallest sculpture in the world", a playground, a boat. Build on your child's creations by providing paint a second day and more wood glue and decorations of recycled materials including corks, plastic lids and natural items such as leaves collected by your child. "Tree cookies" make great bases for wood sculptures!
Your stump can be used as a table for art projects. Or cover your stump with a table cloth, invite all your favorite dinosaurs and have a picnic! A stump can be rolled from place to place. Tools other than hammers can be used on the stump. Introduce Phillips and flat he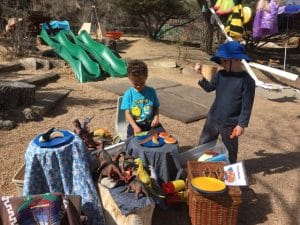 ad screwdrivers and screws. Cardboard pieces work well for a child to practice attaching with screw drivers and screws. Use a hand drill to make wooden beads.
Children can be taught to use a saw under watchful supervision of an adult. Try sawing corn stalks or branches. Together with your child you can make a set of natural blocks.
I am just sure your child will come up with his or her own original ideas for using a stump in the backyard. Happy hammering!
Sincerely,
Sukie Jackson   Teacher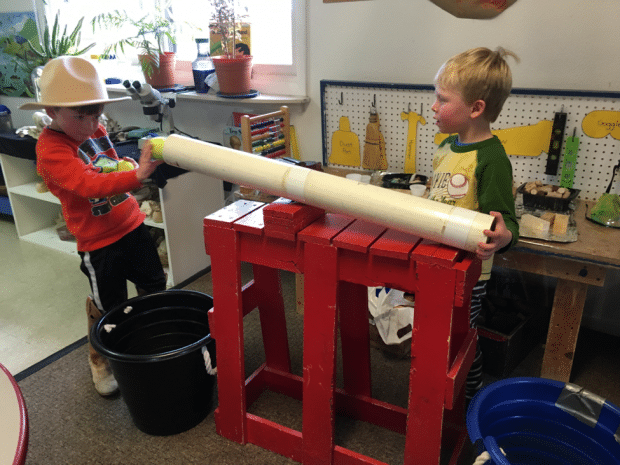 I wonder who in the 50-plus year history of our school made this "toy." There are so many reasons this is the perfect play item for a preschool child.
Children generally begin playing with this toy by putting a tennis ball into the high end of the tube and watching it come out the other end.  But this is just the beginning!
What happens when one bucket is empty of balls? What happens if a child covers the lower end with his/her hand and balls stack up inside? What happens if a child takes away the bucket that catches the balls? What happens when children slide a car, water, or sand down the tube?
What happens when a child looks up through the tube and sees the eyes or hands of another child (generally this is cause for much laughter and surprise!)?  What happens when children have differing ideas of what they want to do with the balls and buckets?
This ball tube is an open-ended toy. It invites problem solving possibilities. It offers opportunities for exploration and experimentation. It offers opportunities for cooperation (yes, and conflict resolution) when two or more children are playing. It involves coordination and whole-body movement.  There is no one "right way" to play with this toy.
A very simple at-home version of this toy would be to provide a child/children with the a cylindrical tube, buckets and balls. Long gutters purchased for the school by teacher Cecelia Lingle offer similar open-ended opportunities for experimental play. Children love these!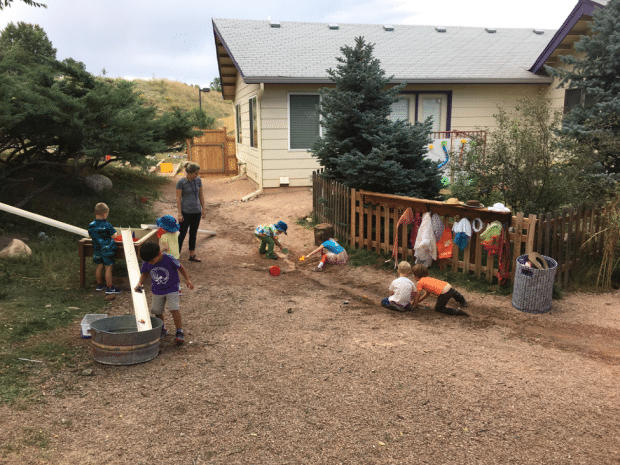 I remember my own children playing (and learning) with the Ball Tube when they were students at Ruth Washburn in the 1990s. I marvel that children today continue to play creatively and joyfully with the very same Ball Tube.  It is the perfect toy!
Sincerely,
Sukie Jackson
Everyday Play with New Additions to Our Backyard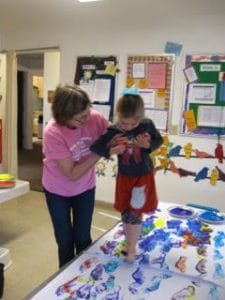 Teacher, Education Director and Assistant extraordinaire Karen Brown has been filling gaps at Ruth Washburn for many years in the best possible way. Karen starting teaching at our school in 1994. She brought professionalism, an expertise in Early Childhood Education, intentional teaching and many, many great themes and curriculum ideas that are still being used daily current teachers.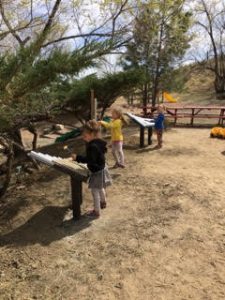 When an Education Director was needed, Karen competently stepped into that role and helped to mentor and assess teachers. Most recently Karen has served as assistant in the Middle 3s class.  Sadly for all of us who treasure Karen's presence at Ruth Washburn, she is retiring. In Karen's characteristically constructive way she and her husband David have donated the Wee Notes Ensemble as a retirement gift to the school. "I felt like there was a gap not having musical instruments outside and this seemed like a sturdy set that would last." It will be very difficult to fill the huge gap left by Karen's retirement, but we already love the music. Thank you Karen!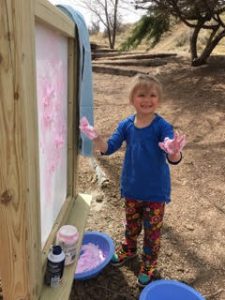 Tracy and Jim Volpe, parents of Hannah (Outdoor Class) and Haelyn (alumna) also identified a need. They recognized that a permanent outdoor easel would facilitate process art in a new setting.  How appropriate that the first person to break in this wonderful outdoor easel was their art-loving daughter Hannah! Hopefully every RW child will take a turn exploring art with this easel.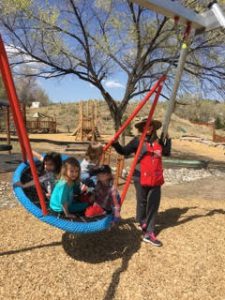 And last but not least, we now have a nest swing on the Prairie paid for with fundraising event proceeds.  For several years teachers have talked about the benefits of and need for swings for young children. The nest swing brings us an open-ended play structure ("it's a rocket"  "it's a giant pizza" "it's a bed")  that encourages cooperation among children. It has been pure joy to watch children explore this new swing.
Special thanks to our director Jen, her husband Aaron and son Hudson, and to Karen and David Brown for working overtime to acquire and install these new backyard play structures! Thank you to Kristin Schoonveld for a fun picture of Karen.
Sincerely,
Sukie Jackson, Teacher
Everyday Play with Pikes Peak Library District Resources
Ruth Washburn has many distinguished alumni parents. Nancy Maday, Children Services manager for the Pikes Peak Library District (PPLD) is one of those people. Both Nancy and her husband Mike have found ways to support Ruth Washburn many years after their sons graduated from the school.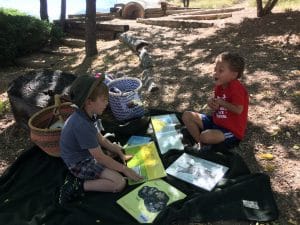 Elliott and William Enjoy Reading Together Outside
When talking to our teaching staff about the topics of books and reading, Nancy reminds us that there is a difference between teaching children to read and getting children ready to read. Our job as teachers and parents of preschool age children is getting children ready to read.
PPLD's "Every Child Ready to Read" program emphasizes talking, singing, reading, writing and playing with children as effective ways to prepare children. Nancy offers the following suggestions to parents and teachers.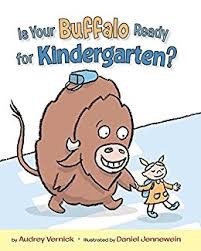 Make sure that your child has lots of opportunities to talk with you, not just listen to you talk.
Songs are a wonderful way to learn about language Singing also slows down language so children can hear different sounds that make up words.
Make shared reading interactive. Before you begin a book, look at the cover and predict what the book is about. Have your child turn the pages. Ask questions as you read aloud and listen to what your child has to say. When you finish the book, ask the child to retell the story.
Talk to your children about what they draw. Write picture captions or stories together. This helps them make a connection between spoken and printed language.
Children learn a lot about language through play. Play helps children think symbolically so they understand that spoken and written words stand for real objects and experiences.
Have fun reading with children. If children enjoy books and reading, they they are more likely to want to read. Choose books that you enjoy too and repeat favorites.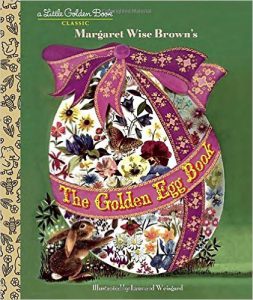 Our local library has many, many resources for parents of young children, two of which were created in collaboration with former and current Ruth Washburn staff members.
Grow a Reader Kits. These are bags/suitcases filled with activities, books, toys and music related to a theme designed to promote literacy in preschool age children. To see the kit themes and booklets go to the Pikes Peak Library District website. Click on PPLD Kids. Click on Grown Ups. Click on Early Literacy. Click on the theme of your choice.
Theme Sets. Search JTHEMESETS on the Pikes Peak Library District website. Each theme set includes four high quality, age appropriate books  packaged together on one of over 50  themes including Friends, Kindergarten, Death of a Pet, Gardening, Rhyming, Colors, Divorce and Construction.
Check these out….literally!
Sincerely,
Sukie Jackson, Teacher
Everyday Play in the Ruth Washburn Basement
Everyday Play in the Ruth Washburn Basement.
Have you ever been down to the basement of the Ruth Washburn Cooperative Nursery School? It is a marvelous place filled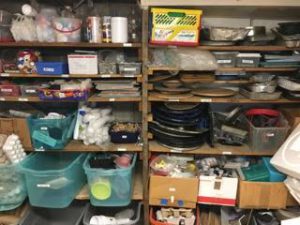 with STUFF that teachers use each week, in original combinations, to create enriching, educational classroom environments. Here's a sneak peek into some favorite items on the chance that you haven't yet experienced this wonderful space:
An entire wall filled with process art materials including a set of baby bottles filled with colored water, fly swatters, sea sponges, golf balls, strawberry baskets and all kinds of brushes including scrub and toothbrushes.
Homemade props. One example is the bin containing berets and monkey tails that are used year after year by RW children as they act out the classic story by Esphyr Slobodkina,  Caps for Sale. What simple, grand props!
Shelves filled with recycled items. Corks, baby food jars, aluminum trays, paint samples, tiles, scoops, wire pieces, sytrofoam sheets, smooth stones, cardboard squares, egg cartons and so on.  Parents in our cooperative are the perfect source for these materials that get used by children for tinkering, building and creating.
Science bins including Weights and Measures, Pulleys, Bubble Wands, Sight and Sound, Beakers and Test Tubes. There is a bin with more than ten bird's nests. Amazing! Shells, rocks, antlers, even a coconut can be unearthed from the many natural objects stored offering children the opportunity to study real objects.
There is more. Paint, glitter, glue, costumes, hats, scarves. Oregon sand, keys, and popcorn. Multi-cultural musical instruments and a set of hand drums. A wooden train, a circus train. Foam, wood, cardboard and other blocks. Puzzles, magnetic builders, flannel boards and stories. Castles, barns, a space ship.
Ann Epstein in The Intentional Teacher recommends that teachers provide "sturdy, open-ended materials that children can use in many ways and reflect the diversity of their homes and communities." This is just what we do with basement STUFF.
"Children are particularly fond of haunting sites where things are visibly worked on.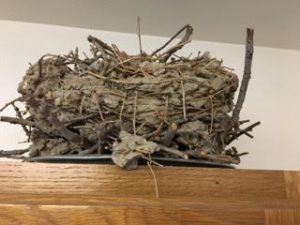 They are irresistibly drawn to the detritus generated by building, gardening, housework, tailoring or carpeting,"  William Benjamin stated way back in 1924. While our basement "detritus" isn't generated by tailoring or housework, it is generated by good teaching. RW teachers, parents and children are "irresistibly" drawn to this school, in part, due to all the great STUFF in our basement that we use to facilitate children's play and learning. If you haven't yet been down to our basement, be sure to plan a visit. You will be amazed by everything there.
Sincerely,
Sukie Jackson, Teacher
Starting School
I laugh when I think of the expectations my husband and I had for our first child, Kenji, as he started school at Ruth Washburn.  We wanted the perfect preschool and the perfect teacher. One of our biggest expectations was that he have perfect friends and be perfectly well adjusted himself, off on his way to being a happy, productive human being.
Reality set in the very first day of school. Our son was terrified. He did not want to be left and when I finally managed to pry myself away from him and get out the door, he and I were both in tears.
We talked with the school director who assured us that Kenji's reaction to school and our anxiety were both normal. She had supported other families as they overcame this challenge. Knowing this was reassuring.
Kenji's classroom teacher had great suggestions.
Have him arrive a little bit early each day, before children were engaged in play, so that he wouldn't have to break into already established groups.
I should avoid long and drawn out good-byes but simply reassure Kenji that I would be back to pick him up.
He could bring a favorite animal or blanket from home to leave in his cubby.
And she asked us about Kenji's favorite interests at home so she could have some familiar and favorite toys out for him.
I was finally able to see this school challenge as a problem we could work through and learn from. Although Kenji's adjustment was a gradual process that took many weeks, he was eventually stomping around the classroom like a dinosaur and sharing large wooden blocks with his classmates.
School life for Kenji and our two daughters has never been perfect. All three children have faced many less-than-perfect situations. Having dealt successfully with Kenji's difficult adjustment to preschool gave my husband and me the confidence to work through these problems with our children and to recognize that good things can come from the problem solving process.
I have learned. There is no perfect school, perfect teacher, perfect friend, nor perfect son. It felt and feels so much better, as a parent,  to spend less time in life looking for perfect—and more time making less-than-perfect situations better.
Having said all that, I do think that Ruth Washburn Cooperative Nursery School is the perfect imperfect school, if that makes sense!
Sincerely,
Sukie Jackson, Teacher
Everyday Play with "Old MacDonald"
Old favorite songs are, well, old favorites for a reason. At Farm Camp our mandolin players Gail and Madison Stuart  suggested we sing "Old MacDonald." Since many children already know the words to this song, we enthusiastically sang "Old Mac Donald Had a Farm, E-I-E-I-0." The fun began when children playfully added their own verses and sounds.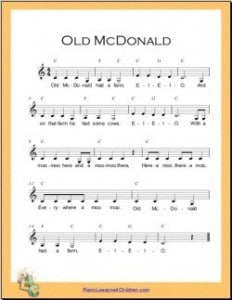 At first children suggested the usual farm animals. We did cows and pigs. And since we had been spending time with goats, the "maa, maas" here and everywhere sounded like the actual animal. Then camper Erin suggested that "on his farm he had some campers" so we sang her verse which children thought was hilarious!
And on his farm he had some campers. E-I-E-I-O.                
With an "I'm hungry for snack here" and "I'm hungry for snack there"
Here an "I'm hungry for a snack" there an "I'm hungry for a snack"
Everywhere an "I'm hungry for a snack."
Old Mac Donald Had a farm, E-I-E-I-O.
 And so on. The children continued with other creative suggestions.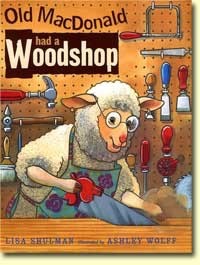 There are many books that play off this familiar tune and song. My favorite is Old MacDonald Had a Woodshop by Lisa Shulman. Not only is MacDonald a woman, but she is a sheep. Instead of a farm she has her woodshop. Instead of animals, she has tools. Instead of animal sounds children can make the sounds of the variety of tools introduced in the book.
In any version of "Old Mac Donald" the famous and rousing chorus "E-I-E-I-O" offers a wonderful literacy opportunity.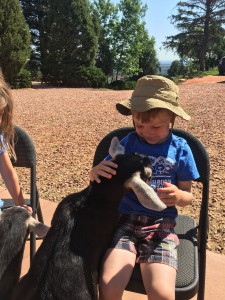 At school when we sing this song and read this book, I point to the letters as children sing. It's the perfect way to introduce several letters of the alphabet. Children quickly learn these and can read as they sing along.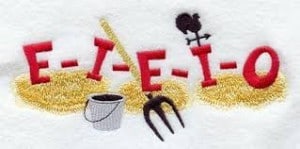 Okay, there is one problem with old favorite songs, and in particular, "Old Mac Donald."  It gets stuck in your head. And that playful changing of the verses can start making you a little weird as you sing to yourself at the gas station and grocery store.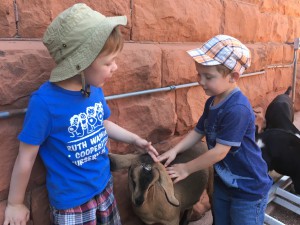 "And in my car I add some gas…"
"And into the grocery cart I put some kale"
But children are the masters of silliness and will love making up the sound for gas going into a car or coming up with the perfect sound that a head of kale would make—not to mention creating their own verses.
So have some fun and sing old favorites with your child…(or to yourself!).
Sincerely,
Sukie Jackson, Teacher
Farm Camp Play With Animals
Animals bring the best out in children. Wonder, imagination, responsibility, joy, surprise, knowledge and love among other things.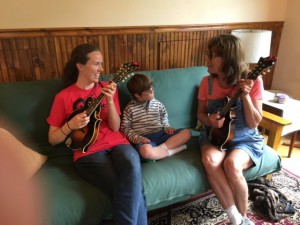 A heartfelt thank to Gail and Dan Stuart for sharing their Redstone Castle "Farm" with Ruth Washburn children this summer. Enjoy these photos from Farm Camp!
Sincerely, Sukie Jackson. Teacher.
All the Parenting Advice You Need on a 3×5 Card?
My dad once gave me the infamous index card with "all the investment advice I would ever need."  I'm sure I didn't take the advice but I've always liked the idea of fitting everything one knows onto an index card. Having just attended the college graduation ceremony of our third child (a Ruth Washburn alumna) I have kiddingly been bragging that my husband and I are done parenting. And then I had the idea that maybe now I could try to fit all my parenting advice to others on one index card. Here's what I came up with: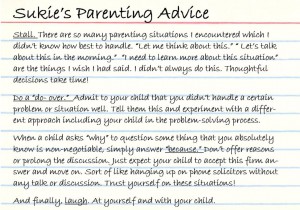 I do know that my parenting years are not over. How can I forget being 38 years old and getting in trouble with my wonderful dad for how I was raising my three-year-old daughter? So as my adult children grow older, and have children of their own, I'm sure I'll be adding more advice to my short-list. But for now, here it is! Give it a try and let me know what I've forgotten.
 Sincerely,
 Sukie Jackson 04s teacher
next page »