Starting School
I laugh when I think of the expectations my husband and I had for our first child, Kenji, as he started school at Ruth Washburn.  We wanted the perfect preschool and the perfect teacher. One of our biggest expectations was that he have perfect friends and be perfectly well adjusted himself, off on his way to being a happy, productive human being.
Reality set in the very first day of school. Our son was terrified. He did not want to be left and when I finally managed to pry myself away from him and get out the door, he and I were both in tears.
We talked with the school director who assured us that Kenji's reaction to school and our anxiety were both normal. She had supported other families as they overcame this challenge. Knowing this was reassuring.
Kenji's classroom teacher had great suggestions.
Have him arrive a little bit early each day, before children were engaged in play, so that he wouldn't have to break into already established groups.
I should avoid long and drawn out good-byes but simply reassure Kenji that I would be back to pick him up.
He could bring a favorite animal or blanket from home to leave in his cubby.
And she asked us about Kenji's favorite interests at home so she could have some familiar and favorite toys out for him.
I was finally able to see this school challenge as a problem we could work through and learn from. Although Kenji's adjustment was a gradual process that took many weeks, he was eventually stomping around the classroom like a dinosaur and sharing large wooden blocks with his classmates.
School life for Kenji and our two daughters has never been perfect. All three children have faced many less-than-perfect situations. Having dealt successfully with Kenji's difficult adjustment to preschool gave my husband and me the confidence to work through these problems with our children and to recognize that good things can come from the problem solving process.
I have learned. There is no perfect school, perfect teacher, perfect friend, nor perfect son. It felt and feels so much better, as a parent,  to spend less time in life looking for perfect—and more time making less-than-perfect situations better.
Having said all that, I do think that Ruth Washburn Cooperative Nursery School is the perfect imperfect school, if that makes sense!
Sincerely,
Sukie Jackson, Teacher
Everyday Play with "Old MacDonald"
Old favorite songs are, well, old favorites for a reason. At Farm Camp our mandolin players Gail and Madison Stuart  suggested we sing "Old MacDonald." Since many children already know the words to this song, we enthusiastically sang "Old Mac Donald Had a Farm, E-I-E-I-0." The fun began when children playfully added their own verses and sounds.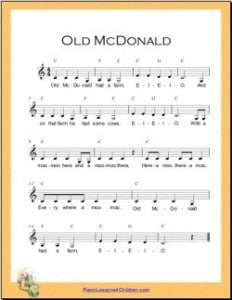 At first children suggested the usual farm animals. We did cows and pigs. And since we had been spending time with goats, the "maa, maas" here and everywhere sounded like the actual animal. Then camper Erin suggested that "on his farm he had some campers" so we sang her verse which children thought was hilarious!
And on his farm he had some campers. E-I-E-I-O.                
With an "I'm hungry for snack here" and "I'm hungry for snack there"
Here an "I'm hungry for a snack" there an "I'm hungry for a snack"
Everywhere an "I'm hungry for a snack."
Old Mac Donald Had a farm, E-I-E-I-O.
 And so on. The children continued with other creative suggestions.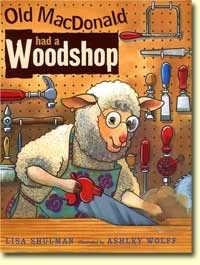 There are many books that play off this familiar tune and song. My favorite is Old MacDonald Had a Woodshop by Lisa Shulman. Not only is MacDonald a woman, but she is a sheep. Instead of a farm she has her woodshop. Instead of animals, she has tools. Instead of animal sounds children can make the sounds of the variety of tools introduced in the book.
In any version of "Old Mac Donald" the famous and rousing chorus "E-I-E-I-O" offers a wonderful literacy opportunity.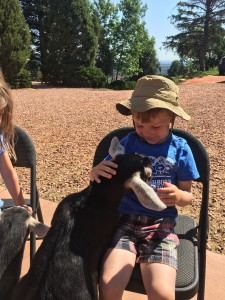 At school when we sing this song and read this book, I point to the letters as children sing. It's the perfect way to introduce several letters of the alphabet. Children quickly learn these and can read as they sing along.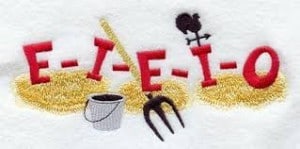 Okay, there is one problem with old favorite songs, and in particular, "Old Mac Donald."  It gets stuck in your head. And that playful changing of the verses can start making you a little weird as you sing to yourself at the gas station and grocery store.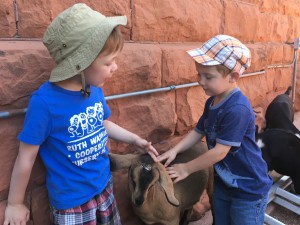 "And in my car I add some gas…"
"And into the grocery cart I put some kale"
But children are the masters of silliness and will love making up the sound for gas going into a car or coming up with the perfect sound that a head of kale would make—not to mention creating their own verses.
So have some fun and sing old favorites with your child…(or to yourself!).
Sincerely,
Sukie Jackson, Teacher
Farm Camp Play With Animals
Animals bring the best out in children. Wonder, imagination, responsibility, joy, surprise, knowledge and love among other things.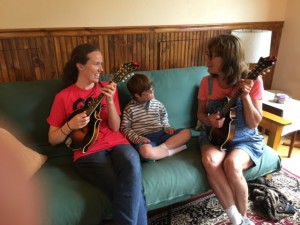 A heartfelt thank to Gail and Dan Stuart for sharing their Redstone Castle "Farm" with Ruth Washburn children this summer. Enjoy these photos from Farm Camp!
Sincerely, Sukie Jackson. Teacher.
All the Parenting Advice You Need on a 3×5 Card?
My dad once gave me the infamous index card with "all the investment advice I would ever need."  I'm sure I didn't take the advice but I've always liked the idea of fitting everything one knows onto an index card. Having just attended the college graduation ceremony of our third child (a Ruth Washburn alumna) I have kiddingly been bragging that my husband and I are done parenting. And then I had the idea that maybe now I could try to fit all my parenting advice to others on one index card. Here's what I came up with: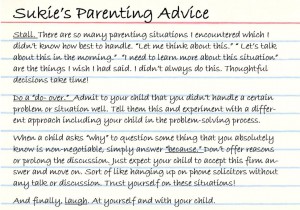 I do know that my parenting years are not over. How can I forget being 38 years old and getting in trouble with my wonderful dad for how I was raising my three-year-old daughter? So as my adult children grow older, and have children of their own, I'm sure I'll be adding more advice to my short-list. But for now, here it is! Give it a try and let me know what I've forgotten.
 Sincerely,
 Sukie Jackson 04s teacher
Everyday Play With Four or Five Real Bandages
Every Day Play with Four or Five Real Bandages
The Housekeeping Area is the part of the classroom that Ruth Washburn teachers transform into grocery stores, flower shops, beauty salons, bike repair shops and pizzerias (among other places!) allowing children many options for role playing. A favorite set up among teachers and children is the pediatric hospital. With some minor adaptations, a parent could easily create a hospital (or doctor's office) environment at home to offer children the opportunity for rich, imaginative pay. Our Ruth Washburn pediatric hospital has these props: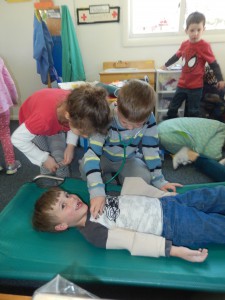 "Open" and "Closed" and other signs for the office (these can be made by children).
Clipboard with a checklist and blank paper for writing prescriptions.
X-rays taped on windows.
Doctor's Kits with stethoscopes, aspirators and blood pressure gauges.
Real bandages and gauze. Children love to bandage dolls, stuffed animals, themselves, friends and willing adults.
Facial tissues, tape, scraps of fabric and bandanas are other materials that can be used for bandaging.
A couch, long pillow or sheet on the floor works too.
Health and Human Body Books. The 610 section of your library will have many non-fiction books from which to choose. Don't miss Tedd Arnold's three humorous books, Parts, More Parts, and Even More Parts. Children seem to love these.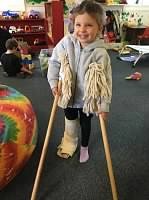 Thanks to the good imaginations of the children in the classroom, we improvise when it comes to props that we don't have. Check out Haleyn's makeshift crutches in the photo!
From my experience  every child has something to say about a time he or she was hurt or when he/she visited the doctor. The pretend pediatric hospital is the perfect setting in which a parent can talk to a child about doctor visits, injuries and/or the importance of good health.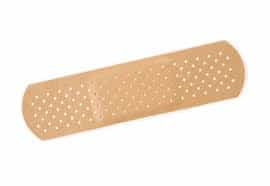 I'm all for simple.  While we have all many great props at our school for our pediatric hospital, all you need at home is a couch and four or five real bandages to inspire opportunities for role play.
Next time you are feeling exhausted, give your child four or five real bandages, lie down on the couch and tell your child that you need a doctor or a nurse! Let your child take care of you for a change. Well timed moans and groans and newly "hurting" body parts while acting as pretend patient can extend the play. If only you can keep from snoozing I'm pretty sure you are in for some fun!
Stay well. Sincerely,
Sukie Jackson, Older 4s teacher
Everyday Play With Baseball
These spring days remind me of Ava's dad, Kevin, who as parent helper spent an entire outdoor play time pitching balls to the Older 4 children.
Kevin instinctively understood how to pitch so that each child holding the plastic bat had success.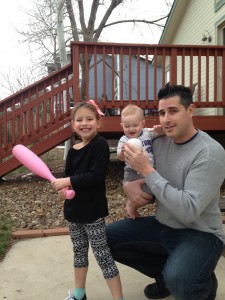 For the children who already knew how to hold a bat and swing, Kevin took several steps back and pitched strikes. These children didn't mind missing a few tosses. Kevin would pitch to them until they got a hit.
For those children who didn't know how to hold a bat, Kevin would model a stance and grip. He would pitch from close enough so that these children also made contact with the ball. A hit!
And for the children for whom swinging a bat didn't come naturally, Kevin basically aimed his pitch so that it would hit the bat wherever the bat happened to be.  Once again, success!
Kevin kindly responded to a child's request to play. He welcomed both boys and girls. Kevin pitched until the last child tired of the activity. All children participating had great fun playing "baseball" and eagerly waited for his or her time at bat.  No one worried about rules or the formal game of baseball.
Ann Epstein in The Intentional Teacher writes "the development of these fundamental manipulative skills (including catching/collecting) is critical for children's later participation in sports and games. Because some involve interacting with others, their mastery also opens a world of social relationships." Kevin offered a perfect age-appropriate practice session!
For learning the "catch" part of baseball, I recommend beginning by tossing a large stuffed animal back and forth with a  young child. This game can be varied by increasing the distance between you and your child. Once he or she gets good at this, try some high throws, or throws to the right or left. And eventually you can work your way to playing catch with a ball. If you are lucky enough to have a child with a great imagination, use a winter glove for a mitt.
Kevin's daughter Ava is now in kindergarten. We miss her but look forward to Kevin, his wife Amanda and their one-year-old slugger George at the school in the future. Thank you Kevin.
Batter up and play ball,
Sukie Jackson   Older 4s teacher
.
Everyday Play With Boxes
It's Not A Cardboard Box.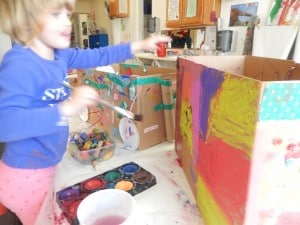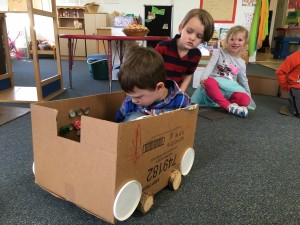 It's a….flying tent, an elevator, a book shelf, a doll's bed,  a race car called "Thunderbolt," a playhouse, a hospital, an airplane.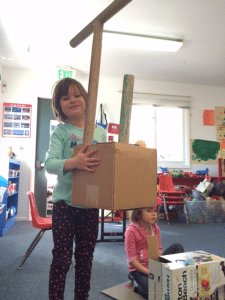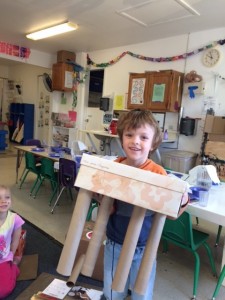 It's a process to give a child a plain and simple cardboard box and offer him/her  the opportunity to use planning, imaginative, artistic and building skills to create his/her very own box project. The steps are simple for facilitating this activity.
Find an empty box, preferably one without writing and graphics leaving plenty of space for children's decorations. A box big enough for the child to sit in is especially fun.
Brainstorm with your child some of the things the box could potentially become. By rotating the box into different positions you and your child can come up with a variety of possibilities. A jack-in-the-box, a vending machine, a pet's cage, a cave, a table, a garbage truck and so on.
During this brainstorming session, show your child a variety of ways you can support this project.

An adult can cut a door, window, circle, coin slot, skylight, windshield or whatever might need cutting.
Fabric scraps can be supplied for possible use as carpeting, curtains, wallpaper, cushions, blankets, and more.
A supply of recycled items including plates, plastic lids, aluminum foil, colored paper and old CDs can be glued on as buttons, wheels, house siding , dashboards and other uses dreamed by a child.
Paint, markers, crayons and colored pencils can add details and "finishing touches" to  the box.

Give the child the box and support him/her with what he/she needs from you. Sometimes it's as easy as cutting open a door or helping with glue. Children may want you want you to write a name or number on the box. I encourage children to do as much independently as they can.
Finally, enjoy watching a creative process at work. Your child will bring ideas and a plan to the project demonstrating his/her ability to think symbolically. And they will work to make their plan a reality.
"Tell me what you need," "tell me about your plan," and "tell me about your box" are perfect questions to support your child throughout the process.  Your children will enjoy reading the book It's Not A Box, by Antoinette Portis before, during and after the process of making his/her own cardboard box project. Both the book and the activity are celebrations of children's imaginations.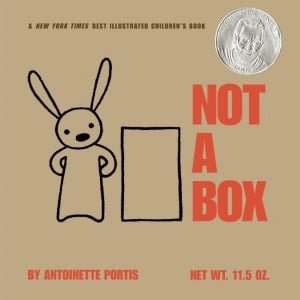 I'd love to hear about your child's cardboard box creation.
Sincerely,
Sukie  Jackson  04 Teacher
Everyday Play Making Outdoor Winter Ornaments
Several Ruth Washburn teachers make ice ornaments with children in their classes. It is both a science experiment and art activity that uses natural materials, gets children outside and results in a surprisingly lovely decoration.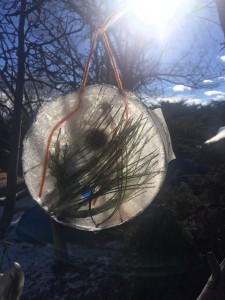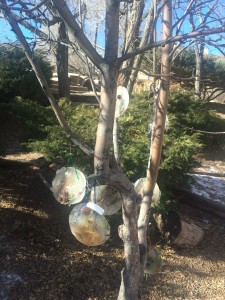 Kristin Schoonveld's Middle 3s Class decorates a tree with their ornaments.
Here's the "recipe" for making ice ornaments.
Take children for an outdoor walk.
Have them gather an assortment of evergreen branches, berries, small pinecones, twigs and dried flowers in pie pans. Or, as I have learned from experience, let them gather whatever they wish! I was curious how Liam's ice pie would turn out when he selected an assortment of rocks.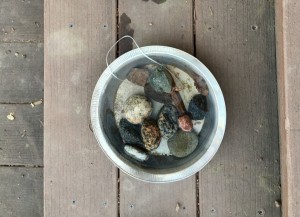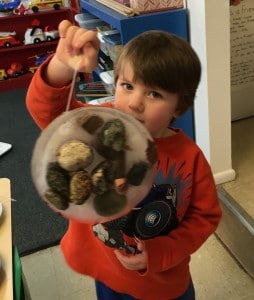 To make the ornaments:
Fill each pan with several inches of water
Next, lay twine or yarn around the inside edges of the pan to create a frame. Leave 8 to 10 inches of extra twine at the top from both ends.
Have children arrange their collected items in a pleasing pattern.
Freeze the pan outdoors or in a freezer.
When frozen, remove the ice ornaments from the pan and hang outdoors.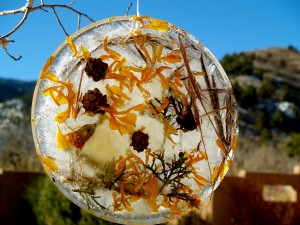 As natural scientists, children are using their five senses to experience winter and experiment in the outdoors. In my experience, some children like the collecting, others enjoy making predictions about what will happen at various stages, some children love the resulting ice ornament, and others like hanging them up and watching them melt. Give this a try with your child and most importantly enjoy precious time together.
Sincerely,
Sukie Jackson, Older 4s teacher
Thanks to Kristi (Morning Mixed Age Class teacher)  and Kristin for photos.
Help Your Child to Wonder
I have always loved an article written by environmentalist Rachel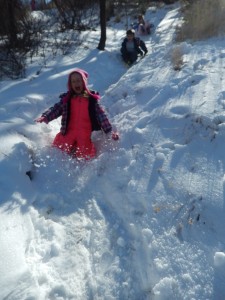 Carson entitled, "Help Your Child to Wonder" which tells about how Ms. Carson shared the beauty and mystery of life with her nephew.
"One stormy autumn night when my nephew Roger was about twenty months old, I wrapped him in blanket and carried him down to the beach in the rainy darkness. Out there, just at the edge of where-we-couldn't-see, big waves were thundering in, dimly seen white shapes that boomed and shouted and threw great handfuls of froth at us. Together we laughed for pure joy…."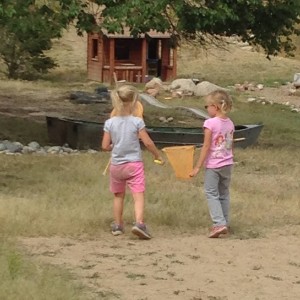 It was hardly a conventional way to entertain one so young, I suppose, but now with Roger a little past his fourth birthday, we are continuing that sharing of adventures in the world of nature that we began in his babyhood, and I think there results are good. That sharing includes nature in storm as well as calm, by night as well as day, and is based on having fun together rather than on teaching."
The article inspired our family to take "night walks" each year in December (these are some of my children's fondest memories from childhood) and make visits throughout the year to a shallow stream where bridge building, stick floating and river watercolor painting happened in a spontaneous way. Rachel Carson's gift of a magnifying glass to her nephew broadened my thinking about age-appropriate gifts for children. Small tackle boxes for collecting natural treasures, folding shovels that invited digging projects, flashlights for indoor and outdoor exploration and  a simple pulley and rope set were gifts that encouraged involvement in the natural world.
I have also grown to appreciate that Rachel Carson based her adventures on "having fun together." In this same article she writes "I sincerely believe that for the child, and for the parent seeking to guide him, it is not half so important to know as to feel. If facts are the seeds that later produce knowledge and wisdom, then the emotions and the impressions of the senses are the fertile soil in which the seeds must grow."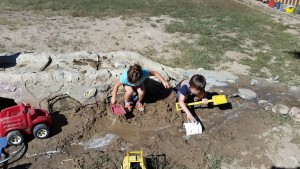 If you are wondering about outdoor education at Ruth Washburn, please join us  on January 21 at 6:00 PM in Minnow's Room for a presentation and discussion about Outdoors 4s and 5s, a new class that will be offered in the fall. We would love to hear your thoughts about sharing the outdoors with young children.
Sincerely,
Sukie Jacksone, Older 4s teacher
BEATING THE SNOW DAY BOREDOM
Please welcome guest blogger Kristin Maida. Kristi teaches the Morning Mixed Age class. She is the mother of two Ruth Washburn graduates, Joey and Cole. You may look forward to cold days when you read some of her great ideas for indoor play!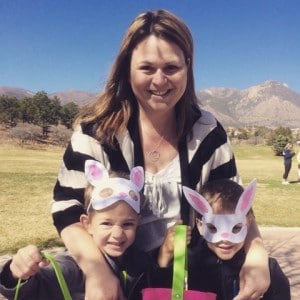 Here we are, knee-deep into fall and already have spent many days cooped-up inside our homes. If you are anything like me, you'll be thinking right about now, "How much longer until winter is over?" I'm not a skier and really despise the cold, in general. With the risk of this sounding all too negative, I'd like to offer up a piece of hope that someone told me years ago: The days are long but the years are short. With that jolly, wisdom I'm offering up some practical ways to keep everyone sane and enjoying this time we have together. Also, if I have to play one more round of Trouble, I might lose my mind. (con't)
Ideas for Indoor Fun
Set up an indoor obstacle course. It can include things like walking around the table three times or jumping on a tile square four times. Chairs and masking tape will be your friends!
Paper airplane relays. Try to use various types of folds, paper and heights to race those planes across your home. Decorating a paper airplane can be fun, too.
Binocular Scavenger Hunt. Don't spend a ton of money, but binoculars are sure fun for kids to play with! Look out the window and try to vary the items to be found. For example: Find a tiny tree with six leaves. Your neighbors might think you're nosy, but keep in mind that they would be pretty desperate if they were trying to find ways to entertain children!
Balloon Tennis or volleyball. Create a net with chairs or tape. This activity is sure to help get some of those wiggles out!
Living Room Camping. Get out those dusty sleeping bags, make a tent or pitch the good old one that was used when the weather was so kind. Camping is a lot of fun, especially in the comfort of one's living room.
Mystery Box. Cut a hole in a box and put various items in the box. You can make this a clean up game or help get children interested in finding a place for various items. The children can also find items for you to guess!
Lastly, if possible, go outside! Bundle up, build a snowman, sled and enjoy the white stuff around us!
Winter Book Ideas
Old Bear by Kevin Henkes
Red Sled by Lita Judge
Frederick (my personal favorite!) by Leo Lionni Snow Music by Lynne Rae Perks
The Busy Little Squirrel by Nancy Tafuri
Warmly,
Kristi
« previous page
·
next page »