Everyday Play With Boxes
It's Not A Cardboard Box.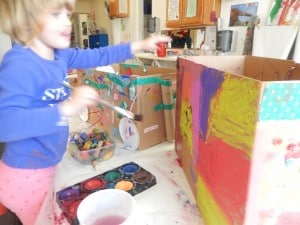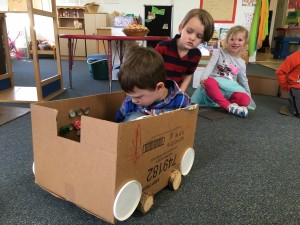 It's a….flying tent, an elevator, a book shelf, a doll's bed,  a race car called "Thunderbolt," a playhouse, a hospital, an airplane.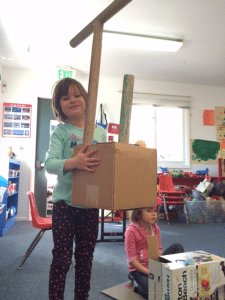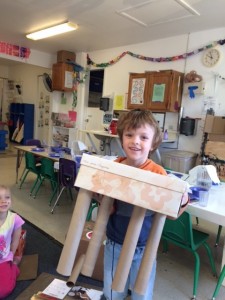 It's a process to give a child a plain and simple cardboard box and offer him/her  the opportunity to use planning, imaginative, artistic and building skills to create his/her very own box project. The steps are simple for facilitating this activity.
Find an empty box, preferably one without writing and graphics leaving plenty of space for children's decorations. A box big enough for the child to sit in is especially fun.
Brainstorm with your child some of the things the box could potentially become. By rotating the box into different positions you and your child can come up with a variety of possibilities. A jack-in-the-box, a vending machine, a pet's cage, a cave, a table, a garbage truck and so on.
During this brainstorming session, show your child a variety of ways you can support this project.

An adult can cut a door, window, circle, coin slot, skylight, windshield or whatever might need cutting.
Fabric scraps can be supplied for possible use as carpeting, curtains, wallpaper, cushions, blankets, and more.
A supply of recycled items including plates, plastic lids, aluminum foil, colored paper and old CDs can be glued on as buttons, wheels, house siding , dashboards and other uses dreamed by a child.
Paint, markers, crayons and colored pencils can add details and "finishing touches" to  the box.

Give the child the box and support him/her with what he/she needs from you. Sometimes it's as easy as cutting open a door or helping with glue. Children may want you want you to write a name or number on the box. I encourage children to do as much independently as they can.
Finally, enjoy watching a creative process at work. Your child will bring ideas and a plan to the project demonstrating his/her ability to think symbolically. And they will work to make their plan a reality.
"Tell me what you need," "tell me about your plan," and "tell me about your box" are perfect questions to support your child throughout the process.  Your children will enjoy reading the book It's Not A Box, by Antoinette Portis before, during and after the process of making his/her own cardboard box project. Both the book and the activity are celebrations of children's imaginations.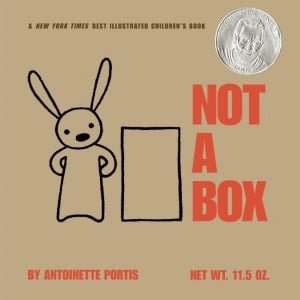 I'd love to hear about your child's cardboard box creation.
Sincerely,
Sukie  Jackson  04 Teacher
Everyday Play Making Outdoor Winter Ornaments
Several Ruth Washburn teachers make ice ornaments with children in their classes. It is both a science experiment and art activity that uses natural materials, gets children outside and results in a surprisingly lovely decoration.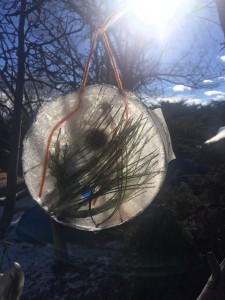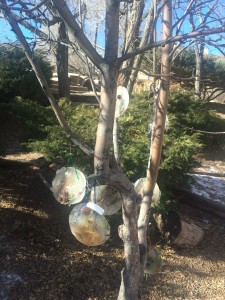 Kristin Schoonveld's Middle 3s Class decorates a tree with their ornaments.
Here's the "recipe" for making ice ornaments.
Take children for an outdoor walk.
Have them gather an assortment of evergreen branches, berries, small pinecones, twigs and dried flowers in pie pans. Or, as I have learned from experience, let them gather whatever they wish! I was curious how Liam's ice pie would turn out when he selected an assortment of rocks.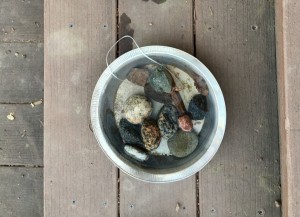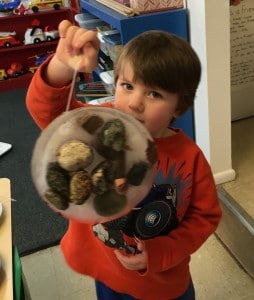 To make the ornaments:
Fill each pan with several inches of water
Next, lay twine or yarn around the inside edges of the pan to create a frame. Leave 8 to 10 inches of extra twine at the top from both ends.
Have children arrange their collected items in a pleasing pattern.
Freeze the pan outdoors or in a freezer.
When frozen, remove the ice ornaments from the pan and hang outdoors.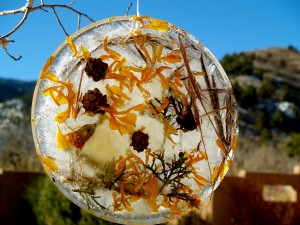 As natural scientists, children are using their five senses to experience winter and experiment in the outdoors. In my experience, some children like the collecting, others enjoy making predictions about what will happen at various stages, some children love the resulting ice ornament, and others like hanging them up and watching them melt. Give this a try with your child and most importantly enjoy precious time together.
Sincerely,
Sukie Jackson, Older 4s teacher
Thanks to Kristi (Morning Mixed Age Class teacher)  and Kristin for photos.
Help Your Child to Wonder
I have always loved an article written by environmentalist Rachel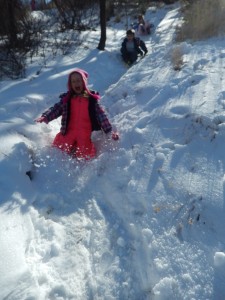 Carson entitled, "Help Your Child to Wonder" which tells about how Ms. Carson shared the beauty and mystery of life with her nephew.
"One stormy autumn night when my nephew Roger was about twenty months old, I wrapped him in blanket and carried him down to the beach in the rainy darkness. Out there, just at the edge of where-we-couldn't-see, big waves were thundering in, dimly seen white shapes that boomed and shouted and threw great handfuls of froth at us. Together we laughed for pure joy…."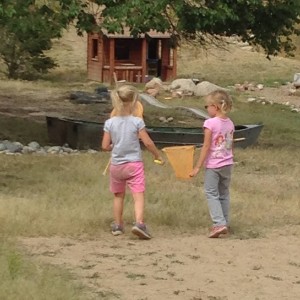 It was hardly a conventional way to entertain one so young, I suppose, but now with Roger a little past his fourth birthday, we are continuing that sharing of adventures in the world of nature that we began in his babyhood, and I think there results are good. That sharing includes nature in storm as well as calm, by night as well as day, and is based on having fun together rather than on teaching."
The article inspired our family to take "night walks" each year in December (these are some of my children's fondest memories from childhood) and make visits throughout the year to a shallow stream where bridge building, stick floating and river watercolor painting happened in a spontaneous way. Rachel Carson's gift of a magnifying glass to her nephew broadened my thinking about age-appropriate gifts for children. Small tackle boxes for collecting natural treasures, folding shovels that invited digging projects, flashlights for indoor and outdoor exploration and  a simple pulley and rope set were gifts that encouraged involvement in the natural world.
I have also grown to appreciate that Rachel Carson based her adventures on "having fun together." In this same article she writes "I sincerely believe that for the child, and for the parent seeking to guide him, it is not half so important to know as to feel. If facts are the seeds that later produce knowledge and wisdom, then the emotions and the impressions of the senses are the fertile soil in which the seeds must grow."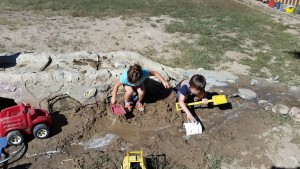 If you are wondering about outdoor education at Ruth Washburn, please join us  on January 21 at 6:00 PM in Minnow's Room for a presentation and discussion about Outdoors 4s and 5s, a new class that will be offered in the fall. We would love to hear your thoughts about sharing the outdoors with young children.
Sincerely,
Sukie Jacksone, Older 4s teacher
BEATING THE SNOW DAY BOREDOM
Please welcome guest blogger Kristin Maida. Kristi teaches the Morning Mixed Age class. She is the mother of two Ruth Washburn graduates, Joey and Cole. You may look forward to cold days when you read some of her great ideas for indoor play!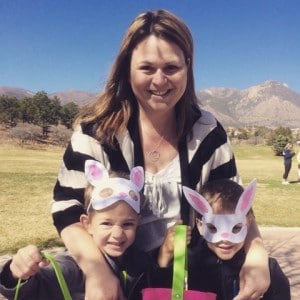 Here we are, knee-deep into fall and already have spent many days cooped-up inside our homes. If you are anything like me, you'll be thinking right about now, "How much longer until winter is over?" I'm not a skier and really despise the cold, in general. With the risk of this sounding all too negative, I'd like to offer up a piece of hope that someone told me years ago: The days are long but the years are short. With that jolly, wisdom I'm offering up some practical ways to keep everyone sane and enjoying this time we have together. Also, if I have to play one more round of Trouble, I might lose my mind. (con't)
Ideas for Indoor Fun
Set up an indoor obstacle course. It can include things like walking around the table three times or jumping on a tile square four times. Chairs and masking tape will be your friends!
Paper airplane relays. Try to use various types of folds, paper and heights to race those planes across your home. Decorating a paper airplane can be fun, too.
Binocular Scavenger Hunt. Don't spend a ton of money, but binoculars are sure fun for kids to play with! Look out the window and try to vary the items to be found. For example: Find a tiny tree with six leaves. Your neighbors might think you're nosy, but keep in mind that they would be pretty desperate if they were trying to find ways to entertain children!
Balloon Tennis or volleyball. Create a net with chairs or tape. This activity is sure to help get some of those wiggles out!
Living Room Camping. Get out those dusty sleeping bags, make a tent or pitch the good old one that was used when the weather was so kind. Camping is a lot of fun, especially in the comfort of one's living room.
Mystery Box. Cut a hole in a box and put various items in the box. You can make this a clean up game or help get children interested in finding a place for various items. The children can also find items for you to guess!
Lastly, if possible, go outside! Bundle up, build a snowman, sled and enjoy the white stuff around us!
Winter Book Ideas
Old Bear by Kevin Henkes
Red Sled by Lita Judge
Frederick (my personal favorite!) by Leo Lionni Snow Music by Lynne Rae Perks
The Busy Little Squirrel by Nancy Tafuri
Warmly,
Kristi
EVERYDAY PLAY WITH Blocks
I forget about the blocks in our classroom sometimes. I shouldn't. Anytime I find a way to encourage both boys and girls to engage in block play, the outcome is positive. Most recently Older 4 children built on a lesson about shapes to create imaginative and elaborate block structures. Here are just a few highlights of our Circle Time:
One crew made a construction site with a hemisphere shape as "a dome." A member of this group thought long and hard about how to use the curve shaped blocks. Eventually he created a road to the site with C-shaped blocks and a ramp.
Four children used block shapes to build a water park. Triangular blocks were positioned upright as water slides and columns sprayed water.
One child built a pyramid into his structure to make a tower. Another opted to build a house. She persevered when her first attempt toppled over and built a second. The third child working in this area experimented with arches.
All the children engaged in an impromptu show-and-tell. As we walked to see the three different areas where children worked, each individual child had something he/she wanted to say about their creation.
When it came time to clean up the blocks, groups worked as teams matching block with shape outlines on the shelves— a puzzle in itself.
There is no shortage on research about the benefits to block play. This excerpt from The Economist magazine in the article "How do unit blocks help children learn?" nicely summarizes the benefits of block play and what is meant by "unit" blocks.
"Theorists cite a laundry list of the benefits that children derive from playing with unit blocks… Co-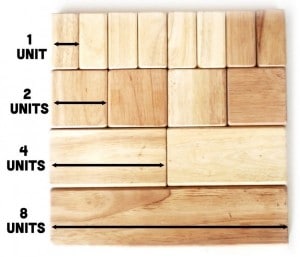 operative building develops language and social skills. The "unit"-based measurements of halves, doubles and quadruples, combined with columns, ramps, curves, buttresses and other specialised shapes, lay the foundations for basic maths and geometry. Balance and collapse teach the nature of gravity. Ramps and columns can be used to make simple levers and fulcrums. The need to place blocks carefully develops hand-eye co-ordination. Does all this ascribe too much educational potential to simple chunks of wood? In fact, multiple studies over several decades back up these claims, with some finding that children who play with blocks significantly outperform those who do not, not just in infancy but over their entire academic careers."
I find that simple questions and an interest in my part can encourage use of blocks by children. "What would you like to make?"  I wonder if you can build something tall?"  "Do the cars need a garage?"  "Could blocks be used to keep the farm animals separate?"  "Is there something you two could you build together?"  "What could this long block be used for?"
How can I forget about blocks? Special thanks to teacher Brenda Holmes-Stanciu who helps me remember!
SIncerely,
Sukie Jackson          Older 4s teacher.
A Blue Day File
Parenting is a tough job. I can't help but think about the mother who refers to her "crumbling sanity," the dad who comments that it is lonely being a stay-at-home father, or the mom who says she looks at other families and thinks that everyone else around her is having such a great time. A Blue Day File can rescue a parent having one of those difficult times.
The idea for a Blue Day file came to me from the director of a non-profit for which I worked. When funding for the organization was short, an individual was disappointed by the program, or some other inevitable problem arose, he pulled out his Blue Day file which included appreciative letters, favorite photos and other positive reminders of the importance of the organization's work.
I liked the idea so much that I started my own file at home. As a mother of young children, I had many challenging times and days. On such occasions, usually it was late at night, I could pull out my Blue Day File which not only offered me comfort but historical perspective on my life.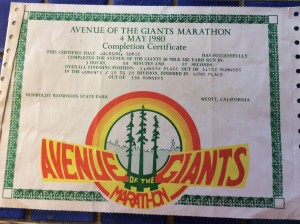 My file contains a wood block print I made in junior high, a marathon certificate (did I really run a marathon and did I really finish in 1,245th place?), a program from a memorial service, cartoons drawn by my sister, favorite book quotations, an article about self-renewal which I always find inspiring, a letter my son wrote to the tooth fairy and some letters and e-mails that have been particularly meaningful to me.
There is no limit to what a Blue Day File might hold. It could also be a box, it could be electronic, it could be a notebook. My own Blue Day File reminds me that while I might be feeling particularly blue or discouraged now, there have been many up times as well. I also appreciate the memory of the director who first showed me his Blue Day File.
Everyone, especially parents of young children, should have a Blue Day File, I think.
Sincerely,
Sukie Jackson                        Older 4s Teacher
Everyday Play with an apple peeler
I have some investment advice for you. Invest in an apple peeler while your children are young. This is not your normal investment advice, I admit, but our family has gotten so much use out of our peeler over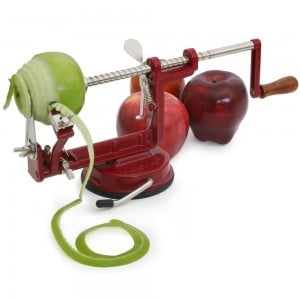 the years, that I thought I'd better pass the secret along. Why invest in an apple peeler?
An apple is a nutritious food. As a Ruth Washburn parent I was so positively influenced by the school's healthy snack policy, Snack Time At Ruth Washburn, that for all the years that my three children were in elementary school, I supplied apples and our apple peeler for holiday and birthday parties. Serving peeled, sliced apples sprinkled with cinnamon on decorative napkins was an easy, healthy alternative to cupcakes. We have taken the peeler to athletic events, dinner parties, birthdays and pot-lucks. Everybody likes having a turn (literally a turn of the crank!). And everybody enjoys the resulting apple snack.
Ruth Washburn teachers find many creative, educational  ways to use apples and apple peelers in their classrooms. These are activities parents can also do at home with children: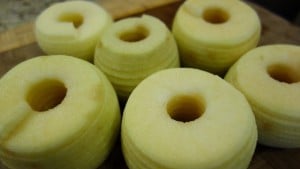 Experiment with dehydrating peeled apples to make "apple chips."
Introduce different apple varieties which have names with such personality—Granny Smith, Pink Lady, Jonathan, Gala and Honey Crisp.
Compare tastes of different varieties and and have children pick favorites.
Observe what is the same and what is different about apple varieties.
Excavate an apple half using a popsicle stick as a tool. Children can discover the stem, the core, the skin and count the number of seeds in their apple.
Cut an apple in half horizontally to discover the star.
Blend and cook apples to make applesauce.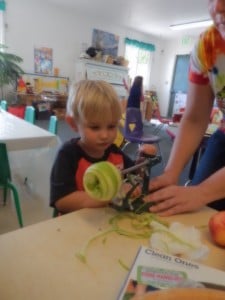 While most children enjoy operating an apple peeler, there are some children who are curious about how this tool works. Educational websites describe an apple peeler as a compound machine. "Four different simple machines make up an apple peeler. The handle is a wheel and axle. The axle is also a screw that turns the apple. A wedge peels the apple's skin. To hold the machine in place, a lever can be switched to engage a suction cup." What a fantastic teaching tool!
An apple peeler makes a unique, durable gift. Children of all ages love peeling, coring, slicing…. and best of all eating apples. So invest now, and let us know what you like best about having your own apple peeler.
Sincerely,
Sukie Jackson       Older 4s teacher
Talking About Feelings with Children
Children at Ruth Washburn are encouraged and allowed to express a range of emotions including excitement, happiness, sadness, fear, anger and disappointment.  Helping children to have the ability to identify, understand and communicate their own emotions and to learn the ability to appropriately manage strong emotions is one program goal. Books are a great tool to help with this learning process. Here are three favorites:
Duck and Goose: How Are You Feeling? by Tad Hills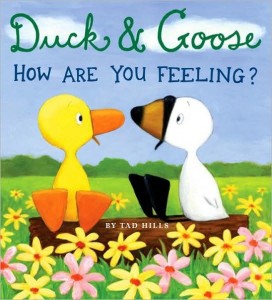 This seemingly simple book has just ten words to describe emotions. The illustrations clearly depict feelings. Guessing at the feeling leads children to share stories about when they have experienced similar emotions. What a great question to ask children periodically—how are you feeling?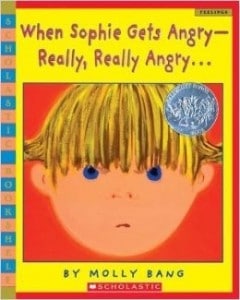 When Sophie Gets Angry, Really Really Angry….by Molly Bang
When Sophie is forced to share her stuffed gorilla, she feels very, very angry. Who of us hasn't experienced that feeling of being very, very angry. The book opens the door for a child to share a story about something that has made him or her angry, and for a discussion of how a person can make him/herself feel better. Individual children (and adults!) have different ways of responding to feelings of anger. Sophie calms herself by running and climbing a tree. Appropriate and inappropriate responses to anger can be discussed.
The Little Old Lady Who Wasn't Afraid of Anything by Linda Williams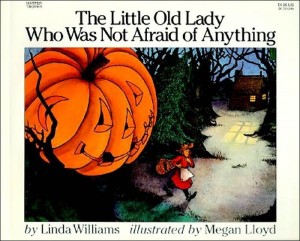 Drama teacher Wendy Harms (mother to Noah and Micah) models a unique way to present this story with children. Wendy prefaces the story by asking, "what kinds of things make you afraid?" Children have lots to say about this topic. After talking about specific fears mentioned by children, Wendy then acts out the story of how a brave and clever lady walking in the woods overcomes her own fear. She invites listeners to help out with telling of the story by clomping, stomping, shaking and nodding along with her.
This is an especially good book to read during Halloween season when children may be fearful of scary costumes and decorations. Minnow, our school's first director,  used to remind parents not to forget that "the Halloween and trick or treating fun we remember from our childhood was experienced between ages six and twelve rather than ages two to five."  She suggested letting the preschooler take the lead on celebrating or not celebrating Halloween.
Jacqueline Golding in her excellent book, Healing Stories, Picture Books for the Big and Small Changes in a Child's Life, writes that "stories can help kids expand, adjust and refine their way of thinking  by showing new ways of thinking about things. Developmental changes bring feelings that need to be processed. Children may not only feel proud, happy and competent, but also sad, angry, worried, lonely, ashamed, or confused. Stories can help them understand and resolve their feelings." Give these books a try, and let us know about other good stories that address children's emotions.
How Are You Feeling? It's an important question!
Sincerely,
Sukie Jackson, Older 4s teacher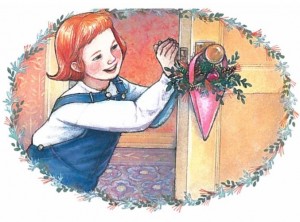 Everyday Play with september-may baskets
One cold September morning my four-year-old daughter Kimi had nothing to do. Her older siblings were happily occupied and I was happily reading. "Mom, there's nothing to do," Kimi said more than once.
I now know from experience that some of the best activities and ideas can come out of a time when there is "nothing to do."  This was one of those times. Kimi came up with the idea herself to make a May Day basket.
Her brother and sister thought this plan was hilarious due to the cold weather and the fact that it was September. That didn't stop  Kimi from getting large piece of pink construction paper. I helped to make a cone shape for the basket. She cut a paper strip for a handle and pushed the stapler to connect it to the basket.
Kimi put on her jacket, I got mine and outside we went. Still wishing I was back inside reading, I couldn't help but notice how how good the cold wind felt.  My daughter made me laugh seeing her outside with her pink May Day basket. I sat on the steps and watched as she picked dried mint, pine needles, some of the last crab apples, pine cones and oregano.
Back inside Kimi showed her basket to her brother and sister who complimented her on the colors and the good smelling mint. She proudly hung it on her bedroom door knob and we decided to call it a September-May Day basket.
I remember this day fondly. I felt grateful that my daughter reminded me of the wonder, beauty and excitement in my own life with the activity of making a September May Day basket with her.
I will be the first to admit that not every time Kimi was "bored" (how do they learn that word so young?) or with nothing to do resulted in such a creative, constructive activity. But many times it did. I was delighted to support her efforts to help herself with her bored, nothing-to-do state.
In our Ruth Washburn garden, so lovingly tended for by Cecelia and the Garden Committee, Ruth Washburn is the perfect place for children to enjoy the opportunity to explore and gather treasures making September-May Day baskets. Give it a try at home or in a local park and send us a picture of your version of a September May-Day basket!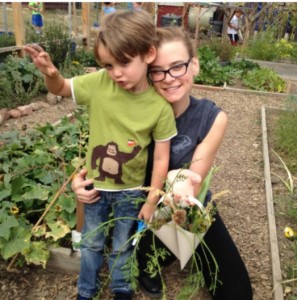 Lio and his mom Kate in the RW Garden
Sincerely,
Sukie Jackson, Older 4s teacher
Note— Illustration by Karen Dugan from September-May Day Basket in Ladybug Magazine.
Everyday Play with Tools
While remodeling a bedroom in preparation for the arrival of our second child, I spent many afternoons in hardware stores with lists of tools and materials to buy. Often, my two-year-old son, Kenji, was with me. It was his fascination with nails, tools, pipes, wood, chains and just about everything else there that started me purchasing hardware toys.
Here are some examples:
plastic toolbox (even the latch is engaging)
adjustable wrench (experiment with "jaw" widths)
putty knife (works great with play dough)
tape measure (look for one that has a gentle retractor)
plastic plumbing pipe pieces (a puzzle for the many ways these can be screwed together)
paintbrushes and a paint can filled with water (great for large motor skills and learning about evaporation)
pliers (try having your child pick up/clean up with these)
flashlight (a night walk is such an adventure)
What I liked about these hardware-store toys is they helped us to make our son a part of our everyday life. Each tool has a real purpose, and he could see what we did with tools to fix, clean, change or build. Like all parents, I am concerned about the safety of toys. I made sure to be in the same room or outside area supervising Kenji when he used these tools. I appreciated their durability and the many creative uses my son found for each one.
Although Kenji is a boy, I heartily recommend hardware toys for girls as well. These toys help children of both sexes become comfortable with tools from an early age and help them feel confident and independent.
In the same way that including children in work projects at home provides learning opportunities, Ruth Washburn Maintenance Days offer children the chance to watch, work and play alongside adults using a  variety of tools for the real purpose of readying the school for classes. The learning has already begun when children can see their parents model volunteering, a caring for the school environment and skills as they clean, fix and build.
RW graduate Kenji is now twenty-six years old. Playing with tools as a child prepared him well for his current tools, an otoscope and stethoscope. In his training to become a pediatrician Kenji's first year medical school  advisor just happened to be another RW graduate, Dr. Ben Scott.
Happy Hammering!
Sincerely,
Sukie Jackson   Older 4s teacher.
« previous page
·
next page »